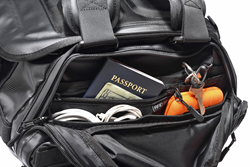 The response from our crowdfunders has been fantastic, and it shows there's a need for these HEXAD Duffels whether a person is taking a day trip or boarding a jet for a long-distance flight.
Orem, Utah (PRWEB) July 26, 2017
Crowdfunders from across the globe have made the two new HEXAD Duffels a tremendous success – with backers from as far away as Japan, Australia and Singapore sending pre-sales of the HEXAD Carryall and HEXAD Access duffel bags over the $350,000 mark as crowdfunding continues on Kickstarter.
"The response from our crowdfunders has been fantastic, and it shows there's a need for these HEXAD Duffels whether a person is taking a day trip or boarding a jet for a long-distance flight," said WANDRD Co-founder Ryan Cope.
Designed to bridge the gap between traditional duffel bags that are uncomfortable and lack organization and dedicated travel bags that only work well at the airport, each style HEXAD duffle offers a solution for any packing challenge a traveler can face.
The HEXAD Carryall comes in a 60-liter and a smaller 40-liter size, depending on the carry-on dimensions needed by the traveler. Both styles are made of tarpaulin and ballistic nylon with army coating, materials that are waterproof and made to last a lifetime. They feature a molded back panel, unique backpack straps, and an adjustable chest strap, making HEXAD the most comfortable duffel on the market. It's backpack straps allow users to carry it tote-style without any extra annoying straps hanging off the bag – and the straps can be easily removed within seconds and stashed away in a dedicated pocket.
The Carryall version also includes an expandable pocket on one side of the bag for shoes or dirty laundry. It easily folds out of the way when not in use. For smaller items, there's an RFID locking pocket for security, a set of spill-proof pockets to keep toiletries contained, a fleece-lined quick access pocket for valuables, and mesh organizer pockets throughout the bag.
The HEXAD Access version of the Duffel is also carry-on size, and features a main u-zip accessible compartment. One big clamshell opening gives access to the entire contents of the duffel – and multiple compartments make it easy to organize clothes or other gear. Two bottom sections fit both sizes of WANDRD's existing camera cubes, enabling the Access Duffel to be transformed into the ultimate camera bag.
Whether it's used for camera gear or not, the two side entry points on the Access Duffel provide quick access to a user's most important items.
Both styles of the HEXAD Duffels come with a padded laptop sleeve, big enough for a 15" laptop.
Cope says the WANDRD team came up with the idea for the HEXAD Duffels during a flight from Vietnam to Hong Kong.
"We're three brothers who love to travel and we're always looking for ways to simplify and improve the way we carry our belongings," he said. "We designed these duffels for travelers like us, and we're glad to see this support from other people who enjoy traveling and want to simplify their trips, as well."
For more information and to pre-order at heavily-discounted early bird prices, visit the HEXAD Duffel Kickstarter Campaign Page.
About WANDRD
We are passionate photographers, travelers, commuters, creators, and explorers, and we needed camera and travel bags that could keep up with our adventurous lifestyle, so we decided to make them. When we set out, our goal wasn't just to create a great travel and camera bags, we also wanted to encourage others to stop focusing on the monotony of daily life and to really live. A great bag does more than carry your stuff. A great bag evokes action and facilitates adventure, all while being so intuitive, you forget it's even there. No matter what you're doing, we build each bag with one purpose – to help you focus on the moment. For more information about the company's range of products, visit http://www.wandrd.com.