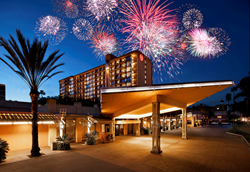 Anaheim, California (PRWEB) July 27, 2017
The Sheraton Park Hotel at the Anaheim Resort has introduced a program tailored to support families travelling with children affected by ASD (Autism Spectrum Disorder). By working with specialists in the field, the program has been designed and customized through specialized staff training, a pre-arrival consultation with families, personalized amenities to meet guests' specific needs, availability of special dietary meals, and the opportunity for the families to avail themselves of specialized babysitting services during their stay.
The Center for Disease Control estimates that 1 in 68 families are affected by this condition and that in the U.S. alone there are approximately 3.5 million people diagnosed with ASD. The lack of understanding and awareness in the general population has created hesitancy among families wishing to travel. The program at the Sheraton Park Anaheim offers a team trained to support the unique sensitivities of the ASD guest and the ability to provide a tailored amenity package assembled by specialists in the field.
"This concept was presented to us by 16-year-old Alexander, a thoughtful young man who has a brother with ASD," said Ian Gee, general manager of the Sheraton Park Hotel. "We embraced his vision recognizing the need for a program of this kind. His brother, Maximillian, was introduced to the hotel team during staff training, and both brothers were ultimately our first guests of this program. We have named our program in honor of Max."
Guests wishing to take advantage of this specialized MAX Program may call 1-800-325-3535 and ask for the MAX Program Rate. A hotel associate will follow up with a personal call to introduce the program details and note specific needs of the family.
###
The Sheraton Park Hotel at the Anaheim Resort, located at 1855 South Harbor Boulevard, is near world-famous Disneyland® theme parks and adjacent to the Anaheim Convention Center. Surrounded by tropical landscaped grounds, the hotel features a family pool, fitness center, and Park 55 Café serving breakfast, lunch and dinner. With over 28,000 square feet of meeting space, Sheraton Park Hotel offers beautifully appointed indoor and outdoor venues with state-of-the-art facilities and seamless connectivity, making it an unparalleled option for corporate events, meetings, weddings, banquets and more. The Sheraton Park Hotel at the Anaheim Resort is operated by Interstate Hotels & Resorts. For more information, please visit http://www.sheratonparkanaheim.com, or follow the property on Twitter or Facebook.