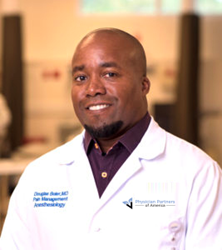 (PRWEB) July 28, 2017
Douglas E. Boler, M.D., an anesthesiologist and interventional pain management physician, has joined Physician Partners of America Pain Relief Group - Boynton Beach. The new practice is located at 10301 Hagen Ranch Road, Suite D-720.
Dr. Boler uses the safest and best practices in interventional pain management, a subspecialty of pain management medicine. This type of pain management concentrates on the use of minimally invasive techniques to treat and manage acute or chronic pain. These may include post-surgical discomfort, bone or muscle pain, head and neck pain, malignancy, traumatic injury and chronic back pain. Treatment may include injections, nerve blocks and topical and oral medications. The goal is to treat the root cause of the pain in order to increase patients' enjoyment of life and ultimately allow them to be pain-free.
Dr. Boler earned his medical degree at Southern Illinois University School of Medicine. He interned at Texas Tech University Health Sciences Center, then completed his anesthesiology residency at St. Louis University School of Medicine. He most recently served as medical director of the National Pain Institute, New Port Richey, FL, helping patients manage chronic pain through interventional techniques. Previously he was medical director of the Deuk Spine Institute in Melbourne, FL, and was affiliated with Parrish Medical Center.
Over the years he has also served as an anesthesiologist at the Bonati Institute in Hudson, FL; DM Physicians in Belleville, IL; Anesthesia Specialties Alliance in Peoria, IL and as the medical director and staff anesthesiologist at Eglin Air Force Base in Fort Walton Beach, FL. He has also been in private practice in Trinity, FL and Belleville, IL.
Dr. Boler is a veteran of the United States Air Force and speaks English and Spanish. He served as the bugler for the honor guard while stationed at Eglin Air Force Base, and received base-wide recognition for participating in the base's first aorta surgery. In his spare time, he enjoys playing a variety of musical instruments and riding.
Patients seeking an appointment with Dr. Boler can call (561) 853-1001, ext. 3. The clinic is open from 8 a.m. to 5 p.m. Monday through Friday. Same-day appointments are available.
About PPOA:
Started in 2013 and headquartered in Tampa, FL, Physician Partners of America (PPOA), is a national healthcare organization focused on strengthening the doctor-patient relationship and improving patient outcomes. PPOA, and its affiliates – Florida Pain Relief Group, Texas Pain Relief Group, Texas Foot and Ankle Group, Urgent Care of Texas and National Medical Practices – share a common vision of ensuring the wellbeing of patients and providing their physician partners the opportunity to focus on the practice of medicine. This model allows physicians to be physicians, caring about patients and their needs in the face of ever more complex administrative requirements. For more information about Physician Partners of America, visit http://www.physicianpartnersofamerica.com.