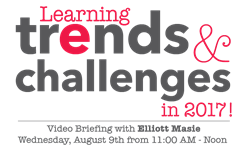 Saratoga Springs, NY (PRWEB) July 26, 2017
Learning 2017 Host & Curator Elliott Masie has announced that he will host his annual Free video briefing on Learning Trends & Challenges on August 9 from 11am to 12 noon ET. Elliott will present this Free video briefing on a variety of topics, with real-time questions and comments from the audience.
Some of the topics that will be addressed include:

Changes in Learners and Learning Expectations
Learning Formats: Shorter, More Video, Agile, and Stackable
Challenging our Learning Rituals and Traditions
Compliance Nightmares and Changes
Technology Innovations: Spoken Search and Mixed Media
Machine Learning: Hype or "Amazon for Learning"?
Cyber, Terror, & Emergency Readiness
Curation: So Much Content – Making Sense & Order
Personalization: Making it Real
If interested, please sign up at https://www.masie.com/2017trends.
The MASIE Center is a Saratoga Springs, NY think tank focused on how organizations can support learning and knowledge within the workforce.
For more information, please visit http://www.masie.com