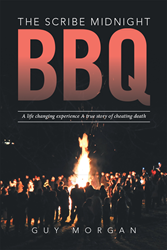 WASKOM, Texas (PRWEB) July 31, 2017
A Texas-based author has released a book which highlights one fateful night in his life and the traumatic aftermath that follows. "The Scribe Midnight BBQ: A Life Changing Experience, a True Story of Cheating Death," by Guy Morgan, is the telling of a true story about a life-changing decision in one man's life which almost cost him everything.
In 'BBQ,' Morgan discusses the night of May 21, 2000, a night that began as any other. What began as an invitation to a midnight barbecue quickly turned into an intense confrontation, which resulted in Morgan being shot in the head. As a result, Morgan suffered major brain trauma and fell into a coma. Readers will see not only Morgan's struggles throughout this ordeal, but also how he overcomes it.
"There's no way I should've survived but by the grace of God, I did," said Morgan. "It was very therapeutic for me to relive the instances I went through."
"When you look at someone and wonder what their life is like, there is no way you can truly understand what they have gone through and overcome," a reviewer wrote about the book. "I am thankful that this man knows God can give us a second chance of a beautiful life. If this
A compelling story of one man's fateful decision that altered the course of his life, "The Scribe Midnight BBQ" will move readers from all walks of life.
"The Scribe Midnight BBQ"
By Guy Morgan
ISBN: 978-1-5245-4336-5 (softcover); 978-1-5245-4335-8 (electronic)
Available at the Xlibris Online Bookstore, Amazon and Barnes & Noble
About the author
Guy Morgan is a former production manager for a pottery barn currently living in Waskom, Texas. To learn more, please visit his website.
###
Review Copies & Interview Requests:
LAVIDGE – Phoenix
Chris Peña
480-998-2600 x 519
cpena(at)lavidge(dot)com
General Inquiries:
LAVIDGE – Phoenix
Bryan Beach
480-998-2600 x 510
bbeach(at)lavidge(dot)com