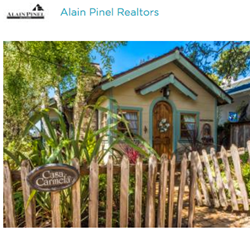 Carmel Cottage is a one-of-a-kind home
SARATOGA, Calif. (PRWEB) July 26, 2017
An Alain Pinel Realtors' (APR) listing located in the heart of the Golden Rectangle of Carmel was named a winner in the 2017 HGTV Ultimate House Hunt. Represented by Greg Albertson in APR's Carmel office, the 1,566-square-foot custom cottage received the most votes among all finalists, winning in the contest's Living Large in Small Spaces category. The HGTV Ultimate House Hunt, a month-long online contest on HGTV.com, received 1.1 million votes across a range of categories involving properties around the globe.
The Carmel Cottage has a wide range of distinctive architectural features, including a Knotty Alder arched front door, a Carmel flagstone front patio and stone fireplace. The home includes three bedrooms and two baths, with a roomy master suite that includes a gas insert fireplace. The cottage floors are engineered distressed Southern Maple Plank wood, and the vaulted wood-beam ceilings provide a spacious feel to the home.
"Carmel Cottage is a one-of-a-kind home that, as the contest category suggests, provides the opportunity to live large in a cozy, right-sized space," noted Albertson. "We've already seen a great deal of interest in the few days since the contest win was announced, and the residents of Carmel themselves couldn't be prouder to have their town recognized in this way."
In addition to the Living Large in Small Spaces category, winning homes were also selected in the following categories: Curb Appeal, Great Estates, International Homes, Kitchen + Dining, Modern Masterpieces and Outdoor Retreat.
"We are delighted to once again partner with HGTV to showcase some of our members' most memorable homes for sale," said Paul Boomsma, COO of Leading Real Estate Companies of the World® and president of Luxury Portfolio International®. "The consumer response to the contest was incredibly enthusiastic and reflects the public's desire to be inspired by beautiful homes in remarkable settings."
The Ultimate House Hunt presents extraordinary homes for sale to HGTV's extensive audience, allowing consumers to vote for the homes they find most appealing. HGTV partnered with Leading Real Estate Companies of the World® and Luxury Portfolio International® as the exclusive real estate partners for the awards. Alain Pinel Realtors is a member of Leading Real Estate Companies of the World, a selective global real estate community of more than 565 market-leading real estate firms, and participates in its luxury marketing program, Luxury Portfolio International.
About Alain Pinel Realtors®
Alain Pinel Realtors (APR) is the largest privately owned residential real estate company in Northern California and is consistently ranked among the top 10 largest residential real estate firms in the United States based on closed-sales volume. The firm has 1,400 agents in more than 30 offices throughout Northern California. APR was founded in 1990 by CEO and President Paul L. Hulme, and is based in Saratoga, Calif. Visit us at apr.com, china.apr.com, facebook.com/AlainPinelRealtors, and @AlainPinel.
About HGTV
America's leading home and lifestyle brand, HGTV features a top-rated cable network that is distributed to more than 99 million U.S. households and the HGTV website, HGTV.com, the nation's leading online home-and-garden destination. The brand also includes the HGTV HOME consumer products line which showcases exclusive collections of paint, flooring, soft goods and other home-oriented products, as well as HGTV Magazine, a new home and lifestyle publication published in partnership with Hearst Magazines.
About Leading Real Estate Companies of the World®
Leading Real Estate Companies of the World® (http://www.LeadingRE.com) is a selective global community of the highest quality independent real estate companies, with over 565 companies and 130,000 sales associates in 65 countries. Network members generate over 1.1 million transactions annually, with $368 billion in home sales. LeadingRE exists to make its members better by connecting them to opportunities and people around the globe, supporting them with an international referral network, professional development programs, unique events and connections to people and opportunities worldwide.
About Luxury Portfolio International®
Luxury Portfolio International® (http://www.LuxuryPortfolio.com) is the luxury face of Leading Real Estate Companies of the World®, the largest global network of premier locally branded companies dominated by many of the world's most powerful independent luxury brokerages. Luxury Portfolio International® attracts a global audience of visitors from over 200 countries/territories every month and marketed over 50,000 luxury homes to over three million high-net-worth visitors last year.