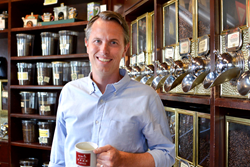 I'm honored to lead this strong and thriving company during its next chapter -- Tim Volkema, new owner of Schuil Coffee
Grand Rapids, Michigan (PRWEB) July 31, 2017
After 36 years as a family-owned roaster of specialty coffees, Schuil Coffee Co. has been purchased by Timothy Volkema, a West Michigan native and entrepreneur who will uphold the company's longstanding tradition of quality and service.
Volkema, 40, purchased the business in late June from Greta Schuil, who will assist with a smooth transition and then pursue other interests. Terms were not disclosed, but Volkema said the business will remain "a closely-held family business with no debt, allowing us to focus on our customers and hold a long-term view in our decision making."
The 10-person full-time staff of Schuil Coffee remained with the company following the purchase, so operations were not affected by the ownership change. "Our goal is to make the transition as seamless and transparent for our customers as possible," he said.
Volkema said he and Schuil have been in discussions for more than two years about the sale of the business founded in 1981 by Garry and Gladys Schuil, who became acquainted with specialty coffees by traveling overseas in the 1970s. At the time, U.S. consumers largely drank mass produced coffee brands that appealed to the widest possible audiences, but the Schuils were convinced America was ready for better tasting coffees. After purchasing coffee roasting equipment and making connections with specialty coffee farmers, the Schuils began roasting, packaging and selling the first specialty coffee beans in Michigan.
Today, Schuil Coffee roasts, packages and sells more than 100 types of coffees, including Schuil Blends, Fair Trade Organic, Flavored and Estate coffees from major coffee-producing areas such as Sumatra, Yemen, Zimbabwe, Guatemala, the Andes, Nicaragua, Jamaica, Brazil and Costa Rica.
Schuil Coffee supplies coffee and tea on a wholesale basis to retailers, coffee shops and restaurants throughout the Midwest. The company also sells products and provides brewing equipment and accessories directly to offices at companies, churches, hospitals, and other organizations.
Schuil Coffee operates a retail store selling freshly-roasted coffee beans and teas, baked goods, and brewing equipment at its roasting facility and warehouse at 3679 29th Street SE in Grand Rapids. The store employs full-time baristas who brew coffees and serve a variety of espresso-based drinks. All of the Schuil Coffee products can be ordered online through its website at schuilcoffee.com.
"Personally, I'm honored to lead this strong and thriving company during its next chapter," Volkema said. "As a West Michigan native, I have a strong understanding of the local market. I'm also excited to apply some of the lessons I've learned during my work experience with other companies."
Volkema's career took him away from West Michigan for about 17 years, during which time he served as a Category Leader for Amazon in New York City, a Brand Manager for Kraft Foods and a Consultant for Deloitte in Chicago, and the Co-Founder/CEO of Kasa Indian Eateries in San Francisco. He most recently served as an Operating Partner at The Windquest Group here in Grand Rapids. Volkema holds a bachelor's degree in economics from Calvin College and a master's of business administration from the Kellogg School at Northwestern University.
Those interested in learning more about the company can visit its website at http://schuilcoffee.com.