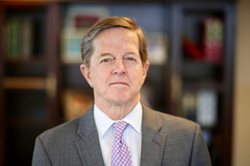 "Florida Trend's Legal Elite helps accomplish this objective by creating an independent and reliable process to identify our state's top legal talent and rising stars."
TAMPA, Fla. (PRWEB) July 26, 2017
Givens Givens Sparks' founding partner, Stann Givens, has been recognized in the 2017 edition of Florida Trend's 'Legal Elite', a list that represents just over 1 percent of all the active Florida Bar members.
The list of 1,080 honorees, published in the July issue of Florida Trend magazine, includes attorneys in private practice, as well as top government and non-profit attorneys, and was compiled through a peer nomination process. The attorneys on the list are held in the highest regard by other lawyers with whom they have personally worked and would recommend to others.
"The Florida Bar is committed to connecting both our members and the public with the legal resources needed to support their practices, businesses and daily lives," said Florida Bar President Michael J. Higer. "Florida Trend's Legal Elite helps accomplish this objective by creating an independent and reliable process to identify our state's top legal talent and rising stars."
Florida Trend publisher, Andrew Corty, explained how the Legal Elite list started as a resources for the publication's readers in 2004, but quickly grew to become a guide from a trustworthy legal partner.
In the more than 40 years that he has been practicing law, Givens has made a positive impact and impression on the Tampa family law field, earning him many accolades. He has been named a Super Lawyer® since 2006, and a "Best Lawyer in America" since 1998 in the Woodward/White lawyer rating. Givens was also recently honored by the Family Law Inn of Tampa, an organization promoting ethics and professionalism, when the group permanently renamed itself The Stann W. Givens Family Law Inn.
Givens Givens Sparks is a trial law firm representing individuals and their families in state and federal cases ranging from personal injury and wrongful death actions, to commercial insurance litigation and complex high net-worth divorce cases. With more than 135 years of combined professional experience, the Givens Givens Sparks team of lawyers is dedicated to the advocacy and protection of their clients and their families. To learn more about Givens Givens Sparks, please visit: http://www.givenssparks.com.