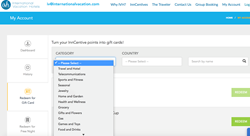 Today InnDependent InnCentives equips travelers with fast redeption on gift cards or longer redeption on free nights.
Phoenix (PRWEB) July 28, 2017
InnDependent InnCentives has recently enhanced its patent-pending loyalty program to now be available for consumers at IVHTravel (https://www.ivhtravel.com/) with far-reaching rewards. IVHTravel, powered by IBC Hospitality Technologies, is an OTA designed specifically for travelers wanting a variety of global rewards in addition to booking a wide range of accommodations worldwide. In addition to redeeming accrued loyalty points for free nights at more than 1.1 million destinations across the globe, members of the InnDependent InnCentives loyalty club can now use their credits to purchase eGift cards redeemable at restaurants and retailers globally.
"Today, InnDependent InnCentives equips travelers with fast redemption on gift cards or longer redemption on free nights," said Pamela Barnhill, president and COO of IBC Hospitality Technologies. "It's a first-of-its-kind 'Stay Globally / Redeem Globally' loyalty program that puts travelers' desires first. In addition to offering more than 1 million lodging choices and hundreds of gift cards with global brands, there are no blackout dates . . . no math to convert points to nights . . . and no exceptions. Hotels won't know when travelers are staying free, so guests will get the same service and perks as other guests. InnDependent InnCentives lets guests enjoy their perks their way."
With InnDependent InnCentives, members can access their account by email, Facebook or Google, and select from among hundreds of items immediately available for redemption on Amazon, Starbucks, Whole Foods, eGiftAfrica, Jumia, Zen Garden, Musafir.com, iFly Singapore and more. Members booking on ivhtravel.com can also enjoy competitive activity add-ons, backed by optional cancellation protection.
"IBC Hospitality Technologies is in the final stages of setting 'loyalty rates' for members," Barnhill said. "When members log in to their respective InnCentives accounts, they will be able to book hotels at even lower rates than those publicly available. We are confident that InnCentives members will be thrilled with these new enhancements and cost savings."
Good for Hotels as well
"Hoteliers like IVHTravel.com because they receive full guest information to use in future re-marketing and email campaigns," Barnhill said. "This is very different from other OTA's. It's also a favored program because IVH reservations include loyalty, so it doesn't cost the property anything to redeem rewards, and no one at the property needs to figure out how to convert points to free nights. Travelers get the trip of their dreams while hotels continue to drive revenues. It's a win-win for everyone."