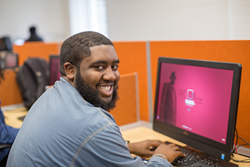 DURHAM, N.C. (PRWEB) July 27, 2017
North Carolina Central University (NCCU) recently launched NCCU Online to provide a robust, easy-to-use, one-stop platform for online learning.
NCCU Online conveniently connects users to a host of web-based academic programs, services, resources, scholarship and financial aid, as well access to the online application process. The fully-online offerings include 10 degree programs, seven certificates and two hybrid programs with Wake Technical Community College and Vance-Granville Community College.
"NCCU Online helps the university broaden its reach by increasing access to a quality education through the convenience of online classes," said NCCU Chancellor Johnson O. Akinleye.
Higher education research firm Babson Survey Research Group reports that more than 6 million students across the country are enrolled in at least one distance-learning course.
NCCU offers online bachelor's and master's degree programs in: Counseling (Master of Arts, School of Education); RN-to-BSN (Bachelor of Science, College of Behavioral and Social Sciences); Birth to Kindergarten (Bachelor of Science, College of Behavioral and Social Sciences); Library and Information Sciences (Master of Science, School of Library and Information Sciences); and Criminal Justice (Bachelor of Science, College of Behavioral and Social Sciences).
The university's online portfolio is a part of UNC Online, which supports nearly 400 degree and certificate programs among the 17 higher education institutions in the UNC system.
"Distance education is a growing trend, with more than 60 percent of its learners attending public institutions," Akinleye said. "NCCU is in the forefront of this movement with offerings that are consistently listed among the nation's top-ranked academic programs."
NCCU was recently 16th out of 20 Historically Black Colleges and Universities (HBCUs) cited for outstanding online programs by Online College Plan, an independent publication aimed at college-bound students. There are more than 100 HBCUs in the nation.
To determine the rankings, Online College Plan examined each programs' flexibility, accreditation and career-success rates. NCCU was noted for providing significant flexibility for distance-learning students, as well as needed accommodations for both traditional on-campus students and distance-learning students.
The university's Online R.N.-to-B.S.N. Program also was ranked No. 16 by affordablecolleges.com. It was listed as among the top 50 most affordable online nursing programs in the nation for 2017 based on quality and value.
The Office of e-Learning was established in the Division of Academic Affairs in 2015 to support development of high-quality innovative learning options leading to student success in the online learning environment. The office also provides professional development resources to faculty who teach online courses.
"Through NCCU Online, we extend the benefit of an NCCU education to students who need the flexibility of online learning," said Kimberly Phifer-McGhee, director of the Division of Extended Studies. "With the growing number of national distance learners, NCCU is able to provide quality education in much-in-demand career fields."
NCCU Online is housed in the Division of Extended Studies and offers undergraduate, graduate and certificate programs ranging from criminal justice and education to career and school counseling. Courses available online and in hybrid formats include: Faith-Based and Philanthropic Entrepreneurship; Dietetics; Information Policy and Management; Health Informatics; Security Studies; E-Learning; and Professional Food Service.
The latest college listings published by U.S. News & World Report also recognized NCCU for two of its online programs: a collection of bachelor's degree offerings and the Master of Educational Technology. Additionally, the online master's program in Educational Technology was noted as the best online graduate program at any HBCU and second-best among all institutions in North Carolina.
The School of Business's Online Hospitality and Tourism Administration Program came in fifth among the nation's 25 best online bachelor's degree programs in that field as cited by College Choice. Eastern Carolina University, at No. 7, was the only other North Carolina online hospitality program to be included on the 2017 list.
For more information about NCCU's online offerings, visit http://www.nccuonline.nccu.edu.