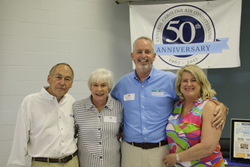 We care about our community and look for opportunities to give back. - Robert J. Allison, President
Greensboro, NC (PRWEB) July 27, 2017
Central Carolina Air Conditioning, Plumbing & Electrical celebrated their 50th anniversary with a large outdoor picnic for both current and past employees including Founder, Richard Lacy.
Founded in 1967 by Richard Lacy as Lacy Air Conditioning, the company grew to six employees in their first year of service and managed $27,000 in sales revenue that year. In 1972, Richard changed the name of the company to Central Trane Air Conditioning Company LLC to reflect their partnership with the large well known Trane AC manufacturing group. In 1984, Richard and his team decided to change the name to Central Carolina Air Conditioning after working with additional Air Conditioner manufacturers.
After being sold in 1997 to Group Maintenance America and a merger with Building One Resources, the company operated under a business unit called Encompass until 2002 when Richard Lacy, current President Robert J. Allison along with senior managers Barbara Dixon, Pat Priddy and Bill Corriher purchased the business back from Encompass.
"We had come a long way from those early years because we are a company of good people, selling and installing good products, and always having a plan for the future." Richard Lacy, Founder.
Central Carolina Air Conditioning renamed their residential division this past fall to include 'Plumbing & Electrical.' All three services have been offered for several years and recently a new program was created that includes all these services named "Whole House."
The commercial division, CCAC Building Solutions, is a leader in the HVAC Mechanical Contracting, Service, and Energy Solutions business. Their unique approach is to develop a strategic facilities plan to deliver a level of service that reduces your energy costs, provides comfort to building occupants, and extend the life of your equipment. With offices strategically located in Greensboro and Raleigh, they are able to work with customers throughout the state of North Carolina.
"We're proud of what we have accomplished these past 50 years both in our residential and commercial divisions. Many people get into this business not realizing how important it is to establish long term relationships with vendors, customers and especially employees. We care about our community and look for opportunities to give back." Robert J. Allison, President.
Central Carolina was voted one of Triad Business Journal's Best Places to Work in 2016 and 2017 in the mid-size employer category for many reasons, including their benefits package with multiple healthcare options, company-matched 401-K, financial assistance for industry-related educational opportunities, family-oriented environment and overall employee satisfaction.