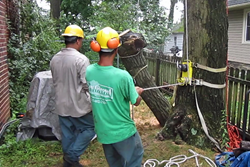 Choosing a tree removal company is a decision that can spell disaster or delight for a homeowner.
Philadelphia, PA (PRWEB) July 31, 2017
When storms strike or a tree dies, homeowners inevitably have to deal the tough decision of hiring a tree removal company. Considered the most dangerous job performed by a tree service company, tree removal requires professionals with the knowledge and equipment to safely remove trees even in the most challenging locations. Giroud Tree and Lawn provides 10 tips homeowners can use to hire a reliable tree removal service to do the job right.
Choosing a tree removal company is a decision that can spell disaster or delight for a homeowner. The following questions will help in selecting a tree removal service that can perform the job safely and fit the homeowner's needs.
1. Experience: What experience does the company have in large tree removals; especially where a tree is positioned close to a house, fencing, or electrical power lines?
2. Professionalism: Does company representative arrive on time for his appointment, dressed professionally with Company identification?
3. Certifications: Is the Company representative an ISA Certified Arborist? Is the tree removal crew EHAP certified to work around electrical hazards?
4. Safety: How will the property be protected from damage during the tree removal? Does the company employ crew members who are Certified Treecare Safety Professionals (CTSP)?
5. Best Practices: Will the job be done according to ANSI A300 standards; the best practices in the industry?
6. Insurance: Does the company have a "Certificate of Insurance" that covers worker's compensation, property damage and at least $2,000,000 business liability in case of accidents?
7. Security: Does the Company do criminal background checks and drug test its employees?
8. Crew Qualifications: Are personnel trained to work around electrical hazards? Does the company require its crew members to participate in continuing education and training in the latest techniques and safe working procedures?
9. Track Record: Does the Company have references that to check for work completed in the local area? What is the company's standing with consumer watchdogs like Angie's List and Better Business Bureau?
10. Ethics: What is the Company's policy on handling problems and ensuring the client's complete satisfaction?
"As the video of a challenging removal near power lines on a busy street in Philadelphia shows, tree removal is a science of logistics, weights and angles," explains Rob Nagy, ISA Certified Arborist with Giroud Tree and Lawn. "The most qualified company will have deep experience in all parts of the tree removal operation. Price is always a consideration but it should not trump the company's ability to do the job safely."
Before starting work, tree removal crews who follow best practices will assess the work area. The crew will set up the job to maximize efficiency and prevent property damage. Finally, the crew must evaluate the proximity of the tree and workers to electrical lines. Tree crew members should be specially trained to work safely around electrical hazards. By federal law, a crew cannot work within 10 feet of a live electrical wire.
When the tree removal operation begins, the angles at which limbs are cut and the weight of each tree limb becomes critical. Limbs that look small from the ground can actually weigh more than the family car when they are cut and lowered from the tree. The tree crew must understand how each limb will behave when it swings free from the tree plus the rigging and equipment required to safely lower it to the ground.
Every tree removal has a unique set of challenges, concludes Rob Nagy. "When research on each company's capabilities is done before making a hiring decision, a homeowner is more likely to have the job done safely and be satisfied with the end result."
About Giroud Tree and Lawn
Giroud Tree and Lawn specializes in tree service, tree removal and lawn care programs that make customers love doing business with the company since 1974. Serving Bucks, Montgomery and Philadelphia Counties, the company offers professional tree and lawn evaluation, tree pruning, tree removal, insect and disease control, fertilizing, stump removal and traditional and 100% organic lawn programs to keep lawns healthy and green . Giroud Arborists are certified by the International Society of Arboriculture (ISA) and have the knowledge and experience required to properly diagnose, treat and maintain trees and lawn health. The company is Accredited by the Better Business Bureau and has been awarded the Angie's List Super Service Award® every year since 2005. The "Giroud Treework for Charity" program donates free tree care services to parks, historical sites and other non-profit organizations located in the Company's service area. For more information, visit the company website at https://www.giroudtree.com or call 215-682-7704.