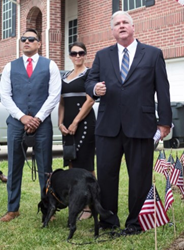 "This home means freedom. Freedom to start living my life. To start building the type of family environment that I had growing up," said Munoz. "I still can't believe this happened."
Baytown, TEXAS (PRWEB) July 26, 2017
U.S. Bank, in conjunction with Freedom Alliance, presented the keys to a newly-renovated, mortgage-free home to medically retired Army Staff Sgt. Rodolfo "Javier" Munoz on Wednesday, July 26 at 10 a.m. This event was especially notable as this was the tenth home donated jointly by U.S. Bank and Freedom Alliance, a charitable organization which provides support to injured service members and military families. The home is located at 5307 Coast Line Street in Baytown.
Munoz, 38, was born in Laredo, Texas and grew up in San Antonio. He was raised in a patriotic household, as his father served in the Marine Corps during the Vietnam era. In 2000, Munoz enlisted in the Louisiana National Guard and trained as a human intelligence collector.
Wanting to be on active duty after the terrorist attacks of September 11, 2001, he re-enlisted as a Soldier to serve his country in a more meaningful way. Munoz completed training at Fort Sam Houston and became a combat medic. He has had three deployments from 2004-2012, serving in Iraq and at Guantanamo Bay Naval Base. He has earned multiple awards including an Army Commendation Medal with Valor and a Combat Medic Badge. He medically retired from the U.S. Army in August 2015. Munoz is rated 90 percent disabled by the VA and suffers from nerve damage, post-traumatic stress and other combat-related injuries.
Munoz is working toward earning an associate degree at Northwest Vista College in personal fitness training. He is currently engaged to Jennifer Kirk, a retired Air Force veteran with 20 years of service. They both previously resided in San Antonio.
"This home means freedom. Freedom to start living my life. To start building the type of family environment that I had growing up," said Munoz. "I still can't believe this happened."
This renovated three-bedroom, two-bath house was donated by U.S. Bank through its Housing Opportunities after Military Engagement (H.O.M.E.) program, in conjunction with Freedom Alliance's Heroes to Homeowners program. Chronos Solutions, a real estate services provider, also contributed to the cost of the repairs made to the home.
Several U.S. Bank and Freedom Alliance representatives were present to welcome Munoz to his new home, including Patrick Law, senior vice president at U.S. Bank, and Tom Kilgannon, president of Freedom Alliance.
"We're privileged to be able to give a little back to someone who has given so much to our country," said Law, who is a U.S. Army veteran. "Across the country, U.S. Bank is committed to supporting our military members and veterans as an employer, community member and corporate citizen."
Event photos can be found here: https://www.facebook.com/pg/FreedomAlliance/photos/?tab=album&album_id=10156448309894167
In addition to partnering with military service organizations such as Freedom Alliance, U.S. Bank supports veterans and military family members through Proud to Serve, an employee-led business resource group. Through Proud to Serve, each new hire is personally welcomed by leaders who are also veterans. Employees are also encouraged to use internal social networking forums to connect, network and share stories. U.S. Bank hired more than 500 veterans in 2016 and currently employs approximately 2,000 veterans.
"Javier Munoz is an incredible young man who loves our country and loved serving in our military. He has seen and been through a great deal, lost friends and made tremendous sacrifices. This home donation will help him build a strong foundation for his future and provide security for his family. We're thrilled to assist Javier in his transition to a fulfilling civilian life, in which he pursues new dreams and aspirations," said President of Freedom Alliance, Tom Kilgannon. "We are proud of our partnership with U.S. Bank," Kilgannon added, "we could not do this without them, a great company committed to America's veterans."
About Freedom Alliance
Freedom Alliance is a charitable organization which provides help and support to wounded troops and military families. Freedom Alliance has awarded more than $11 million in college scholarships to the children of military heroes killed or disabled in military service and spent millions more helping injured veterans and military families with outdoor recreational therapy trips, Heroes Vacations, care packages for deployed troops, mortgage-free homes, all-terrain wheel chairs and much more. You can learn more about Freedom Alliance at FreedomAlliance.org and Facebook.com/FreedomAlliance.
About U.S. Bank
Minneapolis-based U.S. Bancorp, with $450 billion in assets as of March 31, 2017, is the parent company of U.S. Bank National Association, the fifth largest commercial bank in the United States. The Company operates 3,091 banking offices in 25 states and 4,838 ATMs, and provides a comprehensive line of banking, investment, mortgage, trust and payment services products to consumers, businesses and institutions. Visit U.S. Bancorp on the web at http://www.usbank.com.
# # #
Contact
Pat Swanson, U.S. Bank Corporate Communications, 651.587.3590, Patrick.Swanson(at)usbank(dot)com
Althea Paul, Freedom Alliance, 813.321.3310, AltheaP(at)ConsultVistra(dot)com