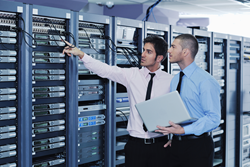 ...Until he joined AAA Communications to convert us to a state of the art Tele-Messaging facility.
Brandon, Florida (PRWEB) July 28, 2017
AAA Communications Inc. is excited to announce the addition of Robert Mitchell to the position of IT Administrator. His background is in Paging Services, Telephone Systems, Networking and IT Management. Robert previously worked at Westside Communications and DialPage from 1977 thru 1995 as a systems engineer.
After a successful start in the industry, Robert founded his own paging service, Triple A Beepers from 1995 to 2000. From 2000 on Robert put his expertise to use as an RF consultant and ISP Manager for several companies until he joined AAA Communications to convert us to a state of the art facility providing professional level TeleMessaging Solutions to medical, hospitals, service industries and more.
The first image a customer has of your company is provided by an Order Entry Tele Messaging Attendant. QTMS prides itself on having a professional staff who are specially trained, one on one, to know every customer's business and product line, and the use of state-of-the-art equipment to process orders and maintain a complete database.
With Robert's expertise and implementation of cutting-edge technology, our TeleMessaging and custom built software can create personalized management reports allowing you to analyze your customer base and advertise more effectively. Your inbound orders and service call reports can be accessed directly online with site encryption and password protection using our computerized Bulletin Board; or, information can be transmitted to the staff or employee of your choosing instantly via TeleMessaging and Email Services.
More information about AAA Communications and our Tele-Messaging Services can be found online at http://www.QTMS.com.
In addition to Robert's technical expertise and commitment to excellence, his ingenuiity and knowledge of the answering service industry has made AAA Communications a multi data center operation with the redundancy and reliability unmatched by our competition. We are confident that Robert's leadership will help secure our position as a leader in the TeleMessaging field.