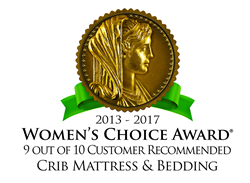 More babies sleep on a Sealy crib mattress than any other brand in the USA
(PRWEB) July 28, 2017
For over 20 years Sealy Baby has been creating crib mattresses that help parents create a safe, healthy sleep environment for their babies. We take tremendous pride in using some of nature's best materials while integrating today's latest comfort technologies to provide parents with the greatest selection of classic, natural, and innovative crib mattresses and crib bedding for infants and toddlers. We are thrilled that our sleep products have won the Women's Choice Award for the fifth year in a row.
The Women's Choice Award (WCA) is of particular pride to us because it recognizes America's best baby brands that come highly recommended by the people who matter most—real moms! The WCA seeks to bring women together to help them identify brands, products, and services that deserve their loyalty and referrals. The Seal of Excellence symbolizes women who are helping women identify businesses that value the customer experience and appreciate the unique needs and preferences of their female consumers.
With over 100 tests for safety, quality, durability, and chemicals, it is no wonder that more babies sleep on a Sealy crib mattress than any other brand in the USA. With our fifth Women's Choice Award, parents can continue to rest assured that when they choose Sealy, they're choosing a baby brand that moms recommend for providing the best sleep environment possible.
To read more about our Sealy crib mattresses and the Women's Choice Award, please visit the Women's Choice Award website.