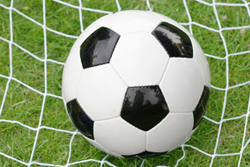 Green Thick Soccer Fields are Safe with Fertigation and Growth Products
Houston, Texas (PRWEB) July 27, 2017
The most important and sacred turfgrass areas in Sheridan Wyoming are their sports fields. So Alan Nicksic, the Growth Products regional manager, installed a Turf Feeding Systems(TFS) fertigation system on the 20 acre soccer complex there.
Alan Nicksic says, "I wanted to make it simple and easy for the field maintenance crew to have quality and thick grass for the players. Thick grass is safer to play on so combining (TFS) fertigation with our nutrient program is a no brainer. I determine the application rate, set the fertigation setting, the field crews just irrigates as needed and the fields look great, are thick and safe."
Nicksic continues, "I have installed over thirty (TFS) fertigation across my region though the years. We have twelve systems installed for Denver Parks and Recreation on over 250 acres. It is very simple for my customers. They order fertilizer, we ship it and the fertigation applies it month after month, year after year with great results".
Michael Chaplinsky, president of Turf Feeding Systems, states, "I have worked with Alan for over twelve years. He knows fertilizer, his customers and gives them green grass. He works with cities, school districts and golf courses in the western states. Our fertigation systems are only a tool for his customer to apply fertilizer".
"We support his customers directly to help maintain the fertigation system with trouble shooting and parts. This partnership is a good one for all of us. He sells fertilizer, we sell fertigation and the customer gets green grass", Chaplinsky concludes.
Bio:
Michael Chaplinsky is the president and founder of Turf Feeding Systems, a leading company in fertigation for golf, sports, landscape and agriculture worldwide for over 30 years. He is an expert in soil health, sustainable landscapes and water efficiency.