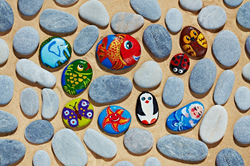 "The popularity of rock art has helped people discover wellness through painting and drawing." - Keri Cunningham, Senior Director of Marketing and Research, AFCI
Elmwood Park, NJ (PRWEB) July 27, 2017
Rock art is one of the biggest feel-good trends of the summer in North America and one of the reasons for it is the nature of the craft. According to the Association For Creative Industries' (AFCI) 2016 Creative Products Size of the Industry Study, individuals who participate in crafts associate positive attitudes with their creative activities. Compared to 10 other craft categories researched, the feelings are strongest among those who paint and draw.
The majority of adults who responded to the survey expressed that painting and drawing made them feel proud and joyful. They described these activities as special and something they would miss participating in if they had to stop.
"The popularity of rock art has helped people discover wellness through painting and drawing," says Keri Cunningham, Senior Director of Marketing and Research, AFCI. "Individuals who may not consider themselves artistic are using rocks as their canvas to convey happy messages to friends and strangers; and by doing so they are experiencing the intrinsic benefits of being creative."
The findings of the research are comprised of voluntary responses of 6,209 U.S. adults ages 18 and older collected between October 2015 and September 2016. During that timeframe, 41 million U.S. households participated in painting and drawing, which is defined as creating images or designs by hand utilizing paints, inks, pastels, charcoal, pencils or watercolors.
The study also found craft consumers spent the most on painting and drawing products making up 16% of the $43+ billion U.S. market spend.
AFCI performs ongoing research of the creative products industry with its research partner, MaritzCX®. AFCI will release new data in August, which will include statistics on the distribution channels where consumers purchase arts and crafts products.
The full report is available at research.afci.global and is accessible to AFCI members for free.
Non-members interested in purchasing AFCI's research reports can review the report overview and should contact Keri Cunningham, Senior Director of Marketing and Research, at kcunningham(at)afci(dot)global.
ABOUT THE ASSOCIATION FOR CREATIVE INDUSTRIES
The Association For Creative Industries (AFCI) is the premier trade association for the global creative arts products industries. AFCI strives to deliver innovative high value services as we support our Members who provide products and services to educate, entertain, and inspire creative consumers. Our Members include the manufacturers, retailers, distributors, designers, educators, digital content providers, professional makers and DIYers, and other creative professionals that comprise the $40 billion+ creative arts industries around the globe. For more information about AFCI, membership, or its annual Creativation trade event, visit http://www.afci.global.
About MaritzCX
MaritzCX® software and services help organizations see, sense and act on the experiences and desires of every customer to increase retention, conversion and lifetime value. With an unmatched combination of customer experience (CX) software, research science, vertical market expertise and managed program services, MaritzCX ingrains CX intelligence and action systems into the DNA of business operations through its 12-point CXEvolution process. To take the complimentary CX assessment, visit http://www.maritzcx.com/assessment. For more information about MaritzCX, visit http://www.maritzcx.com.