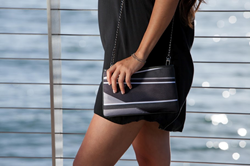 (PRWEB) July 27, 2017
Flaunt designer styles without the pesky price tag with JoJo Handbags—an American made brand whose fashion-forward designs can transition straight from a day at the office to a night on the town.
"When we launched JoJo we wanted to create a whole new handbag category," said JoJo founder Joanna Dubbeldam. "We wanted to produce ethically and inspire women to shop local, so we kept all the manufacturing in the USA; and we wanted to offer women really high end, interesting and versatile pieces they can afford."
Almost every handbag is designed to transform into a different style to meet the modern woman's every whim.
From waist bag to crossbody purse to clutch or backpack, she can get the look she wants instantly without having to run home.
BECCA: This beautiful bag offers four styles in one, meaning she'll soon have extra space in her closet for more important things--like shoes. It easily converts from a messenger bag, to a backpack, to two different types of handbags depending on her needs for the day.
KATH: This lightweight beauty transforms from classic office bag to funky beach tote in seconds. It has room to carry two water bottles, towels, sunscreen, and summer reads or can go practical with space for one's laptop, work files, and snacks.
HANNAH: Go bold or go home. The HANNAH boasts intriguing geometric designs that are complemented by vibrant hues. Each one comes with a sleek, removable gunmetal chain so it can transition from a day of sightseeing to a romantic evening out.
DENISE: Petite and sweet, the DENISE has a place for everything. It can effortlessly hold a wallet, sunglasses, phone, keys, and even lip gloss, becoming your go-to bag for nights on the town, shopping, and more. You can even wear it around your waist or as a chic last minute clutch.
Their bags are crafted from beautiful, soft, yet durable leather that is die cut in an array of eye catching patterns. Cheeky fabrics peek out from beneath these designs for a playful pop of color and style.
In addition to being super lightweight and multi-functional, each purse comes with a host of convenient clips, zips and pockets for keeping track of cell phones, keys, lip gloss, wallets, tablets, and more.
"Stores aren't really used to our niche—the not super cheap yet not designer-label-expensive handbag," said Dubbeldam. "But women are who we design for—not stores--and they're starting to take notice."
In the spirit of empowerment, JoJo Handbags is on a mission to make a real difference for women around the world. They are a member of "The 100 Women Charitable Foundation" and "Women for Women International," and support many local women's shelters.
Shop the full selection of different styles online at https://www.jojohandbags.com.
###
Sarah Brodersen
Senior Public Relations Account Executive
ChicExecs Brand Development
820 Los Vallecitos Blvd. Ste A-C
San Marcos, CA, 92069
T: 760.429.6702
C: 310.210.0841
sarah(at)chicexecs.com