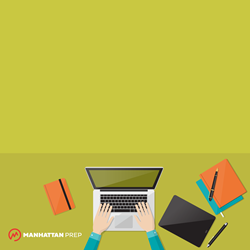 "We started seeing students sign up for our GMAT classes in order to study for the EA! So we knew that we needed to put something together to help these students." - Stacey Koprince, Senior Academics Manager at Manhattan Prep
New York, New York (PRWEB) July 27, 2017
Education company Manhattan Prep, the world's largest provider of GMAT test prep products and services, has built the industry's first comprehensive Executive Assessment (EA) class.
The course, developed by a team of EA experts, is an intensive two-day workshop that promises to efficiently-yet-comprehensively prepare aspiring Executive MBA (EMBA) students for the EA. The EA Masterclass will offer a detailed syllabus, a full set of eBooks, and one-on-one time with an expert instructor.
Introduced in March of 2016, the EA is a shorter standardized test than the GMAT, and as such was designed to better accommodate the busy schedules of professionals pursuing an EMBA.
"The EA is a shorter test than the GMAT (1.5 hours to 3.5 hours), but you still need to know quite a bit in order to score well on all three sections of the exam," said Manhattan Prep Senior Academics Manager Stacey Koprince of the logic behind the comprehensive-yet-succinct structure of the EA Masterclass. "You likely won't need to study the 100+ hours that many GMAT students put in, but you'll still need to study a fair amount."
The Masterclass has been designed by Koprince and a team of experts to cover the major topics test-takers will face on the EA in eight hours of classroom instruction over two days in which personalized, one-on-one guidance is complemented by interactive, video-based lessons taught by Manhattan Prep instructors.
"Now that more than 10 programs accept the EA, interest in taking the exam has really jumped. The exam is so new, though, that there were no study programs available," said Koprince. "We started seeing students sign up for our GMAT classes in order to study for the EA! So we knew that we needed to put something together to help these students."
All EA Masterclass students will receive two flexibly-scheduled, one-hour post-class coaching sessions with their instructor for personalized guidance.
Each student will also receive one full set of eBook Strategy Guides breaking down each topic tested on the EA. The Masterclass syllabus will help students to optimize their strategy guide usage. Topics include:

Fractions, Decimals, & Percents
Algebra
Word Problems
Number Properties
Critical Reasoning
Reading Comprehension
Sentence Correction
Integrated Reasoning & Essay
In addition to the complete set of Manhattan Prep Strategy Guides, students will receive access to the Official GMAC Executive Assessment Toolkit, which includes hundreds of practice questions with full answer explanations. The EA Toolkit includes the EA Official Practice Questions Tool and the Integrated Reasoning Prep Tool, helping students practice with up-to-date EA content directly from the testmaker.
The first EA Masterclass will be held live online on Saturday, Aug 5 and Sunday, Aug 6 from 9:00 a.m. EST to 2:00 p.m. EST. Interested students can register here.
Who is a good candidate for the EA Masterclass?
Students pursuing an Executive Masters of Business Administration should consider the EA Masterclass if this examination is a requirement for admissions at the business school they will apply to.
Students that have limited free time but want a comprehensive study plan that includes the opportunity to work with an instructor.
About the Executive Assessment
The Executive Assessment launched in March 2016 and was specifically designed to evaluate the business school readiness of seasoned professionals seeking entrance to an Executive MBA Program. Because it was designed with busy professionals in mind, the assessment includes just three short 30-minute sections with a total of 40 questions.The EA focuses on evaluating the skills that are critical both at work and in an EMBA program: higher order reasoning, critical thinking, analysis, and problem-solving.
The following programs accept the Executive Assessment:
CEIBS (China European International Business School)
The University Chicago Booth School of Business
Columbia Business School
University of Virginia Darden School of Business
The University of Hong Kong
IESE Business School
INSEAD
London Business School
Rice University Jones Graduate School of Business
UCLA Anderson School of Management
Vanderbilt Owen School of Management
About Manhattan Prep
In 2000, Teach for America alumnus and Yale graduate Zeke Vanderhoek had a radical idea: Better teachers lead to better student outcomes. He applied this vision to test prep, recruiting only instructors with 99th percentile scores and substantial teaching experience. Through Manhattan Prep's high-end approach, students learn the content knowledge and critical thinking skills they need to succeed not only on their exams but also in school and beyond. Manhattan Prep offers in-person, online, and on-demand instruction through classes, private tutoring, and interactive video technology for exams including the GMAT and EA, GRE, and LSAT.