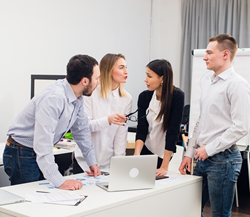 Selecting a long-term IT partner is challenging in the cloud, IoT and emerging retail technology environment.
(PRWEB) July 27, 2017
Hoboken, New Jersey ­- (Cision) July 27, 2017 – Many small and mid-size businesses are searching for better solutions to address their network, cloud, disaster recovery, mobile device and retail technology challenges. A new guide entitled: How to Select an SMB IT Consultant is now available free from eMazzanti Technologies, an IT support consultant for the New York City area and internationally.
The guide, introduced by a short article on the company's website, includes 25 questions every small or mid-size business should answer before they select an SMB IT consultant and additional questions relating retail technology services.
The free guide is available for viewing and download at:How to Select an SMB IT Consultant
"Selecting a long-term IT partner is challenging in the cloud, IoT and emerging retail technology environment. With 16 years of IT experience and demonstrated leadership in cloud services, we understand that customers are looking for technology strategies to grow revenues," said Jennifer Mazzanti, CEO, eMazzanti Technologies. "These are 25 questions to help you select the best possible SMB IT consultant. We have incorporated these customer-driven expectations into everything we do."
Sample questions from How to select an SMB IT Consultant
"5. Do they understand your business problems? Look for an IT partner that has in-depth experience in your specific industry. Experienced doctors can listen to you talk about the symptoms and then provide the correct diagnosis and treatment. Good SMB IT consultants should be able to swiftly grasp work processes and information flow, identify issues or bottlenecks, and quickly recommend an effective and affordable solution."
"10. Do they recommend solutions that have a specific ROI? Given the right information, almost all IT solutions can be monetized. Empirical knowledge is hard to come by, but reasonable assumptions can help determine the ROI of IT investments. If anti-spam software will speed the review of email by 15-30 minutes each day, the ROI to an office of 20 people is significant. Ask the IT consultant to help you identify and calculate the potential ROI of proposed solutions."
"13. Will the proposed business IT services give you a competitive advantage?
Technology is a tool to help create a competitive advantage, grow revenues and impact your bottom line. Ask your IT professional how to best utilize the technology that's been deployed in your business. Just because you have Windows 10 or use Office 365 doesn't mean you know how to maximize its potential. The right tools and the right knowledge will create a competitive advantage and increase revenue."
"21. Are they IT security experts? A security breach or ransomware attack can devastate a company in a few days. Check for the security certifications held and training completed by both the IT support technicians and the business. Make sure you know about both types."
Help for Retailers
In addition to the 25 questions on How to Select an SMB IT Consultant, the free business guide includes a bonus section for smaller retailers and retail chains looking for a retail technology services company. The section includes guidance on how to leverage technology to increase traffic and sales.
From wireless systems that also function as traffic counters to digital marketing experts, the guide explains that it's rare to find an SMB IT consultant that also provides revenue-enhancing retail technologies and services like EMV deployment strategies.
In addition, retailers may want to seek IT consultants that offer digital marketing services like search engine optimization (SEO), email marketing and automation, comprehensive analytics, digital ads with real-time bidding, and search engine marketing. New technologies such as social data collection and auto-replenishment may also be of interest.
A full version of the business guide, "How to Select an SMB IT Consultant," is available free at:
How to select an SMB IT Consultant
Related resource information:
eMazzanti Technologies Continues Climb on List of World's Top Managed Services Providers
eMazzanti Technologies Recognized as Top Retailer Vertical Market MSP, 11th Overall
About eMazzanti Technologies
eMazzanti's team of trained, certified IT experts rapidly deliver retail and payment technology, digital marketing services, cloud and mobile solutions, multi-site implementations, 24×7 outsourced network management, remote monitoring and support to increase productivity, data security and revenue growth for clients ranging from law firms to high-end global retailers.
eMazzanti has made the Inc. 5000 list seven years running, is a 2015, 2013 and 2012 Microsoft Partner of the Year, 2016 NJ Business of the Year, 5X WatchGuard Partner of the Year and one of the TOP 200 U.S. Microsoft Partners! Contact: 1-866-362-9926, info@emazzanti.net or http://www.emazzanti.net Twitter: @emazzanti Facebook: Facebook.com/emazzantitechnologies.