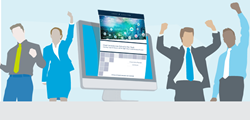 "Jive is a fantastic example of several key indicators businesses will want to look for when they select a UCaaS provider," said Elka Popova, Vice President at Frost & Sullivan.
Orem, Utah (PRWEB) July 27, 2017
Jive Communications, Inc., a leading provider in cloud communications and the UCaaS (Unified Communications as a Service) market, received recognition in a whitepaper recently released by market research and growth-strategy consulting firm Frost & Sullivan. The whitepaper, "Cloud Communications Tailored to Your Needs: Ensuring Long-term Success with the Right Cloud Communications Provider," touted the reliability of Jive's distributed cloud architecture and the company's industry-leading net promoter score (NPS) as examples of what qualities to look for in a UCaaS provider.
"Jive is a fantastic example of several key indicators that businesses will want to look for when they select a UCaaS provider," said Elka Popova, Vice President and Senior Fellow of Digital Transformation at Frost & Sullivan. "Many businesses are digitally transforming themselves to become more agile and competitive. That includes migrating mission-critical functions, including their communications, to the Cloud. Frost & Sullivan determined this whitepaper would be an essential resource to help businesses evaluate who they want to trust with their business communications."
Frost & Sullivan's analysts identified two compelling criteria businesses should watch for in a provider: high-level quality and reliability across private and public Internet connections, and low customer churn rates coupled with high NPS. Jive excelled in both areas, reporting uptime of over 99.99% across its seven U.S.-based data centers, and an NPS score of 68—significantly higher than the industry average of 27.83, placing Jive in a similar customer-satisfaction tier as market leaders such as Apple (NPS score of 72), Amazon (69), and Netflix (68).
"We're extremely happy to have our efforts recognized," said Mike Sharp, Chief Product Officer for Jive Communications. "While we're very proud of the industry-leading product and platform we've built, we're equally proud of the world-class care experience we deliver to our customers. It's exciting to have our efforts validated by Frost & Sullivan for the qualities that set us apart as a superior provider in the UCaaS space."
The whitepaper is avaliable here: https://jive.com/select-cloud-communications-provider/
About Jive
Jive provides cloud-based phone systems and Unified Communications services. Jive's customers include high-growth businesses and public sector institutions needing a scalable platform that is more flexible and cost-effective than their existing legacy systems. Jive's cloud architecture offers an integrated, seamless experience that provides richer context and creates more efficient connections between co-workers and clients. Jive's cloud delivery model ensures that each organization always has the latest technology, features, and applications. Jive boasts industry-leading NPS, uptime, and is one of the most reviewed UCaaS solutions.
About Frost & Sullivan
Frost & Sullivan, the Growth Partnership Company, works in collaboration with clients to leverage visionary innovation that addresses the global challenges and related growth opportunities that will make or break today's market participants. For more than 50 years, we have been developing growth strategies for the global 1000, emerging businesses, the public sector and the investment community.