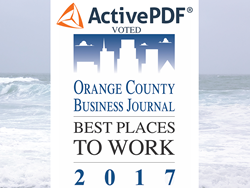 A great team of employees who spend many hours working on delivering the best PDF automation tools
Laguna Niguel, CA (PRWEB) July 28, 2017
ActivePDF, a global leader in high-volume PDF automation, has recently been named as one of the 2017 Best Places to Work in Orange County. As a multi-year recipient, ActivePDF continues to establish itself as one of the more prominent companies to work for in Orange County, CA.
ActivePDF is known for their code-driven suite of PDF automation products, serving enterprise-wide businesses throughout the world. In addition, the company has a reputation for its community involvement including sponsoring local charities such as e Getzlaf Shootout benefiting Cure Duchenne, NFAR Race for Autism 5K, the Anaheim Ducks Foundation, and the Charley Hoffman Foundation. ActivePDF is often recognized on a national level as well – most recently named in Document Strategy magazine's HOT COMPANIES of 2017-18.
"We are really proud to be named once again among the best companies to work for in Orange County," says ActivePDF Founder and CEO Tim Sullivan, "We have a great team of employees who spend many hours working on delivering the best PDF automation tools around. It's important to provide a comfortable work environment, where people feel valued for contributing to the organization and to the to the community in general."
The awards program was created in 2009 and is a project of the Orange County Business Journal and Best Companies Group. The county-wide survey and awards program was designed to identify, recognize and honor the best places of employment in Orange County, benefiting the country's economy, workforce and businesses.
The rankings of the winning organizations are now available in a special section of the July 24, 2017 edition of the Orange County Business Journal.
To learn more about how ActivePDF is bringing businesses closer to a more complete digital environment, visit http://www.ActivePDF.com.
About ActivePDF
Founded in 2000, ActivePDF Inc., is privately held and is a global provider of PDF tools for integration within virtually any business process, including Enterprise Content Management (ECM) , Document Management, and Workflow solutions. The ActivePDF suite is designed to streamline large volumes of rendering and assembly of content into accurate, secure and accessible PDFs. We serve over 25,000 customers from 90 countries in numerous industries including: Healthcare, Financial, Education, Manufacturing, Utilities, Engineering, Legal and Government. For more information, visit https://www.activepdf.com.
ACTIVEPDF and the ActivePDF Logo are registered trademarks of ActivePDF, Inc. All other trademarks are property of their respective owners.