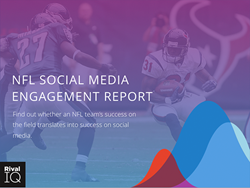 Rival IQ has been critical in helping us make gains in audience engagement. -Ben Hunt, Denver Broncos
Seattle, Washington (PRWEB) July 27, 2017
Rival IQ, the leader in social marketing analytics and insights, today announced that professional sports teams across the globe have chosen Rival IQ to analyze social media activities, prove social media value and empower strategic, data-driven decisions around social content.
The influence of social media as a communication channel is rapidly growing for professional sports organizations. According to a sports marketing study published in the British Journal of Marketing Studies, an increasing number of professional sports leagues are relying on social media channels to market their teams, citing it as a cost-effective way to reach the largest audience possible. "Empowered by social media, fans now expect an unprecedented level of access to players, coaches, and owners. Teams, leagues, and sponsors who fail to respond to activist fan movements risk major damage to tickets sales and brand equity. What is more, they expect to be part of decisions that were once made behind closed doors."
With Rival IQ, organizations in the professional sports industry have the powerful social media analytics they need to track the competition, benchmark their social marketing performance, discover trends and fresh content ideas, and stay aware of fan sentiment. Features, like boosted post detection and breakout post alerts even the playing field when competing for fan attention.
"Rival IQ gives us a great, detailed view of the landscape of where our fans go to discover news and information about the Denver Broncos, and has been critical in helping us make gains in audience engagement," said Ben Hunt, director of digital marketing, Denver Broncos.
"Social media has become an essential element in today's marketing mix and has proven a major communication channel for professional sports organizations to interact with their fans," said John Clark, CEO at Rival IQ. "Our customers trust Rival IQ to inform them about opportunities to educate, excite, and unite their most loyal fanbase through data that informs better, more timely and relevant content."
As an example of the type of analysis Rival IQ provides professional sports organizations, the company announced results of the first ever "NFL Social Media Engagement Report" on the effectiveness of each team's presence on social media. Leveraging their software to analyze 135k social posts across Facebook, Twitter and Instagram, Rival IQ tracked the social activity for every team in the NFL across the 2016 regular season (September 8, 2016 - January 1, 2017). Additionally, this report also includes rankings of all NFL teams based on social following, audience growth, and engagement rate. Unique to this report, Rival IQ ranks NFL teams based fan loyalty, or 'Fair-Weather Fans", from most loyal to least loyal fans calculated by analyzing social engagement post win and losses. Rival IQ dives deep into the data to determine if a team's success on the field translates into success on social media.
Among the professional sports teams standardizing on Rival IQ in the United States and around the world are the Seattle Seahawks, Denver Broncos, Club America FC, Toronto Wolfpack Rugby, and the Canadian Olympic Team. Marketing teams in professional sports seeking actionable social media analytics and competitive insights can visit the Rival IQ website and start a free trial of Rival IQ.
Contact:
Danica Benson
Rival IQ
media(at)rivaliq(dot)com
About Rival IQ
Rival IQ helps digital marketers make more informed content decisions, better understand their audiences and improve their social media engagement using Rival IQ's clear analytics and competitive intelligence insights. For more information, visit http://www.rivaliq.com, call +1.206.395.8572, or follow us on Twitter, LinkedIn, and Facebook.