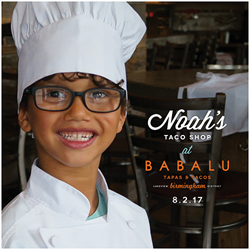 "The Babalu team feels very fortunate to have crossed paths with the Humpherys family. We hope our community will come out to be a part of Noah's Taco Shop!"
Bimringham, AL (PRWEB) July 31, 2017
Seven-year-old Noah Humpherys has overcome obstacles most children and even adults will never experience. He was born with a congenital heart defect which eventually lead to open-heart surgery at four years old. Despite the successful procedure and even before that surgery, Noah's parents began to notice developmental delays in their son. Later, doctors diagnosed Noah with epilepsy and sensory processing disorder.
Early intervention, occupational therapy, and speech therapy have allowed Noah to make tremendous progress. However, Noah will need to continue therapy for years to come. While necessary, the therapy also comes at a great expense. On Wednesday, August 2, Babalu Tapas & Tacos will host Noah's Taco Shop. Proceeds from the all-day pop-up restaurant will help to alleviate the cost of Noah's ongoing therapy.
Babalu will donate $1 for every taco sold during Noah's Taco Shop. Noah was also given the opportunity to create his own signature taco. His grilled shrimp taco will be sold throughout the day.
"Noah is a good-natured, loving child. He loves people, music, his school, his country, and life in general," says Cheryl. "He has compassion for people beyond his years. As his mom, I am not sure he realizes all of his own struggles in life. After open-heart surgery, he was more concerned about the other children in the hospital than he seemed about his own pain."
Cheryl adds, "He is also a little thrill-seeker. If you asked him where on this earth he would rather go, rest assured it would be somewhere with big roller coasters!"
"Noah has such an infectious smile and amazing personality," said Lindsey Miller, Marketing and Communications Manager for Babalu Tapas & Tacos. "When I first met him, he gave me the biggest hug and at that moment I knew we were helping one deserving family with an incredible little boy. The Babalu team feels very fortunate to have crossed paths with the Humpherys family. We hope our community will come out to be a part of Noah's Taco Shop!"
Located in Birmingham's Lakeview District, Babalu Tapas & Tacos serves authentic, gourmet tacos and Latin inspired tapas with a southern twist. To learn more about Babalu Birmingham, visit their website.
About Babalu Tapas & Tacos
Babalu Tapas & Tacos serves delicious craft cocktails and Chef-inspired, made-from-scratch tapas and tacos with a southern twist. Founded in 2010 in Jackson, Mississippi, the restaurant has quickly taken the Southeast by storm with locations in Atlanta, Charlotte, Knoxville, and Memphis. Additional locations in Chapel Hill, NC, and Lexington, KY, are slated for later this year. Babalu is a wholly-owned subsidiary of Eat Here Brands, LLC. For more information, visit their website.