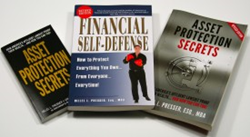 For every 60 minutes you spend making money, spend 60 seconds thinking about how to protect it!
Boca Raton, Florida (PRWEB) July 27, 2017
Many individuals don't recognize the difference between Estate Planning and Asset Protection. It is important that while you are alive you protect all of your assets so that you have something to pass along. A comprehensive plan will include individual's Estate Plan, Business Succession Plan, and Asset Protection. While each subject has its own inherent standalone features, each of these legal subjects overlaps with each other. That is the reason why using integrated planning is extremely important.
1. Asset Protection and Estate Planning Defined
Asset Protection is the legal process of placing both personal and business assets beyond the reach of future potential creditors using domestic and international Asset Protection strategies. Estate Planning is the process of planning for the disposition of an individual's assets after death. Estate Planning typically includes incapacity planning documents (durable power for health care, durable power of attorney for finances as well as a HIPAA Release), a last will and testament and a revocable trust (in most cases). Asset Protection should always be coordinated with Estate Planning to ensure that an individual's planning objectives are optimized.
2. Business Succession Planning Defined
One of the main objectives of Business Succession Planning is to ensure that the business survives its owners with minimal interruption as well as stays outside of probate (court supervision) at death. This is also known as Estate Planning for businesses. Since Asset Protection often involves the use of holding entities such as limited liability companies, it has a direct overlap with Business Planning.
3. Recognize why Estate Planning should be Integrated with Business Planning
Small businesses are the most susceptible to lack of Business Succession Planning, however, Business Succession Planning for medium and/or large businesses is extremely important as well. If proper planning is not undertaken, a business can become destroyed very quickly if its owners end up incapacitated or pass away. Also, it is important to note that if a business does not have proper operating documents in place, then there is a high risk that the business will enter probate (along with all of the assets of the business). This can subject a business to the personal creditors of a decedent owner as well as disrupt business operation. Further, if there is not an Estate Plan for the business in place, then business operations can be interrupted and unintended beneficiaries may be able to reach the business and its assets.
4. Explanation of how to Integrate Estate Planning, Asset Protection Planning, and Business Succession Planning
Integrating Estate Planning, Asset Protection, and Business Succession Planning is a must for every business owner (large or small). The first step is to inventory the business or businesses along with the business assets. Next, an attorney should review all of the internal operating documents of the business, such as the operating agreement, bylaws, partnership agreement and/or shareholder agreements (depending on whether the business is a limited liability company, partnership or corporation). It is also extremely important to have an "exit" plan. For example, a business owner should appoint and train a successor to take over the business in the event of a catastrophe (incapacity or death). This person can be a family member or a loyal employee. That way, the business has minimal interruptions and the customers and/or employees do not suffer.
The Presser Law Firm P.A., Asset Protection Attorneys, represents individuals and businesses in connection with the establishment of comprehensive Asset Protection plans that incorporate both domestic and international components.
Visit the Law Firm's Visit the Law Firm's website (http://www.AssetProtectionAttorneys.com) for access to educational material on Asset Protection, Business Law, Estate Planning, and Probate including webinars, articles and detailed legal explanations.
Contact The Presser Law Firm, P.A., Asset Protection Attorneys for a Complimentary Preliminary Consultation with one of our attorneys or to receive complimentary copies of our latest best-selling books on Asset Protection.
"For every 60 minutes you spend making money, spend 60 seconds thinking about how to protect it!" states attorney Hillel L. Presser, Esq., MBA regarding the importance of protecting your assets proactively.