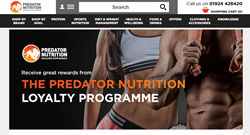 The high redemption rates that we're seeing emphasize the popularity of the unique rewards program, with 23% of the points rewarded in any given month being redeemed. - Phil Slater, Head of Marketing at Predator Nutrition
Sunnyvale, CA (PRWEB) July 27, 2017
Zinrelo's modern day loyalty rewards program has assisted Predator Nutrition to achieve an impressive 25% increase in Average Order Value (AOV) for loyalty users. The company also doubled the per- customer revenue for loyalty users.
Zinrelo's 360 degree loyalty rewards program is providing leading sports nutrition company Predator Nutrition with the tools it needs to convert its users into loyal, engaged repeat customers.
The company launched the Predator Nutrition Reward Program to maximize customer engagement and retention through 360-degree customer interaction. The program rewards its users for multiple interactions on the website such as purchases, recommending Predator Nutrition to a friend, reviewing products and following on social media networks such as Twitter, Facebook, Instagram etc.
The tiered reward system of the loyalty program encourages Predator Nutrition customers to earn more points to receive greater rewards. The five tiers range from Piranha, where users earn 10 points for every pound they spend, up to T-rex, where users who have built up more than 20,000 points can earn 25 points per pound. Points accrued can be used to access a unique selection of rewards, including free products, personal training and diet programs, free gym gear, money off vouchers, VIP event access and exclusive products.
The Predator Nutrition loyalty program delivered the following results;

Customers who engaged with the loyalty program have 25% higher AOV and over 2x more revenue per customer as compared to non- loyalty users.
23% of the points awarded in any month are redeemed towards the unique rewards that Predator offers through the program.
The growth rate of the engaged customers is three times higher than the overall customer acquisition rate.
With the multiple earning opportunities & unique rewards, Predator has managed to grow its base of engaged users, thus improving profitability.
"We've been impressed by the results that the Zinrelo loyalty rewards program has delivered," commented Phil Slater, Head of Marketing at Predator Nutrition. "The high redemption rates that we're seeing emphasize the popularity of the unique rewards program, with 23% of the points rewarded in any given month being redeemed. The whole system has worked well for us – it was easy to set up and integrate with our existing website and is providing a 360-degree customer engagement solution that perfectly meets our needs."
The speed and ease with which the Zinrelo loyalty rewards program can be implemented is a key attraction for busy companies. The fully customizable nature of the 360-degree engagement module means that companies have the power to shape it to their needs, fully customizing activities, redemptions and rewards.
Zinrelo's enterprise-grade loyalty rewards program is a self service platform with flexible pay as you go pricing. It is an Omni-channel solution that can be employed effortlessly for mobile (web and app), desktop and in store (point of sale) use, making it an incredibly versatile system with which businesses can reward their customers. The Zinrelo program also offers features like powerful API access and business rules engine that allows companies to build sophisticated reward scenarios in order to maximize user engagement.
"From the outset we knew that simplicity would be an important part of the Zinrelo loyalty rewards program," stated Samir Palnitkar, Founder of Zinrelo. "Companies don't have time to waste, so our off the shelf solution allows them to quickly and easily implement a rewards program that is unique to them and that can rapidly start to enhance customer engagement from the moment it is launched."
About Predator Nutrition:
PredatorNutrition.com was born in 2009 from the need to introduce fitness enthusiasts to products that work. It is easy answering what they do, but what separates them from their competition is how and why they do it. They are results driven team that strives to provide outstanding customer service, excellent product advice and a great range of innovative supplements which they hold exclusive distribution rights to.
It is this pursuit to be the best in what they do that gives Predator Nutrition a competitive edge and turned it into a leading sports nutrition business in the UK. They sell the best brands from around the world and they are proud to be exclusive distributors to many leading brands such as Driven Sports, Nuts n' more, Sparta Nutrition, Hydrapharm, Iron Legion, Body Nutrition and many more.
About Zinrelo:
Zinrelo brings you the world's best loyalty rewards and referral programs, helping to maximize revenue per customer and new customer acquisition through 360-degree customer engagement. It supports omni-channel interactions including desktop web, mobile web, mobile apps and in-store engagements.
Zinrelo loyalty rewards program boosts per-customer revenue by 2.4 times and repeat purchases by 80%. It creates fiercely loyal customers that are rewarded for all forms of engagements including purchases, social advocacy, reviews, sign-ups, referrals, photo sharing and more. It is fully customizable and is easy to deploy. Zinrelo referral program delivers a 25% uplift in new customer acquisition by converting your customers into brand ambassadors.
To zing your loyalty and referral programs, contact Zinrelo at http://www.zinrelo.com or info(at)zinrelo(dot)com