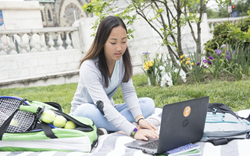 Our licensed teachers, staff, and returning families look forward to welcoming new students for the 2017-18 school year, and encourage interested families to begin the enrollment process as soon as possible
Baltimore, MD (PRWEB) July 27, 2017
International Connections Academy (iNaCA), the U.S.-based accredited, high-quality virtual private school serving students in grades K-12 worldwide, is now enrolling new students for the 2017-18 academic year. Families are invited to attend an information session to explore the program and curriculum, learn more about the benefits of virtual education, and determine if online private school is the best fit for their student.
"Our licensed teachers, staff, and returning families look forward to welcoming new students for the 2017-18 school year, and encourage interested families to begin the enrollment process as soon as possible," Principal Hannah Rinehart said.
Families who enroll new students by July 31st will receive a five percent early enrollment discount and returning families can lock in their 2016-17 tuition rate by this date. Tuition is also accessible with military and multi-child discounts as well as zero percent finance plans. The first day of school is Tuesday, September 5, 2017. First semester enrollment will remain open through December for families needing to alter or enhance their student's learning.
Virtual school appeals to all types of students, and families are choosing online learning for a variety of reasons. According to the 2017 Parent Satisfaction Survey, a third-party parent survey of students who are enrolled at the academy:
97% of parents agree that the curriculum is high quality
96% of parents are satisfied with the helpfulness of teachers
96% of parents agree that their children are satisfied with the program
95% of parents would recommend the school to other families
93% of parents agree that the technology tools improve their child's learning experience
International Connections Academy students learn from home, or anywhere there is an internet connection, and work with high-quality teachers who are licensed and specially trained in online instruction. Students in grades K–12 can enroll full time or part time—choosing to take one class or a full course load—depending on their scheduling needs. Experienced school counselors guide students around the world through the college application process, leading to acceptances at many exceptional schools. The 2017 graduating class included 131 students from more than 15 countries who were awarded more than $4.1 million in scholarships. Learn more about the iNaCA Class of 2017.
Added Principal Rinehart: "Enrolled families will join a worldwide network of students who benefit from the school's personalized learning, high-quality U.S. curriculum, state-of-the-art technology, certified teachers, secure easy-to-use online learning system—and the ability to collaborate and socialize with other students across the globe."
International Connections Academy uses a research based, award-winning curriculum and students can tailor their schedules to accommodate exam preparation and applications, as well as take advantage of the innovative electives and programs like Career Technical Education (CTE) courses. Students may also concurrently earn both a high school diploma and an American Public University (APU) associate degree in four years via the College Acceleration Program.
For more information about the online private school, information sessions, or enrollment, call 1-877-804-6222 or visit http://www.InternationalConnectionsAcademy.com.
About International Connections Academy
International Connections Academy is an accredited, online private school serving students in grades K–12 throughout the United States and abroad. Recognizing individualized instruction as the key to student academic and personal success, iNaCA's highly trained, certified teachers offer instruction tailored to each student's strengths and challenges using an award-winning computer-based curriculum, real-time instruction, and time-tested course materials from leading publishers. International Connections Academy is part of the global learning company Pearson. For more information, visit http://www.InternationalConnectionsAcademy.com.