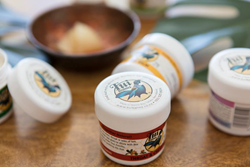 "I like to work with companies that make great things and at the same time, do great things socially" Sarah Ayala, CEO The Kiwi Importer
(PRWEB) July 29, 2017
"I like to work with companies that make great things and at the same time, do great things socially,'" says Sarah Ayala, CEO of The Kiwi Importer who imports and retails Tui Balms in the USA.
Tui Balms is a healing and massage balm company based in rural, New Zealand. Since the 1980s they've been creating their balms with quality all-natural ingredients using certified organic beeswax, olive and almond oil and natural active ingredients to create special formulas for massage, sports, myofascial release, women's health, babies, nasal decongestion and natural bug repellent that is safe for use on children.
There is no doubt that Tui Balms make great balms, but it's not just their amazing balms which sets this enterprise apart. Tui Balms donate 100% of their profits to registered charities which are chosen by team consensus through their unique collaborative business model. Tui Balms are a great example of how companies can make great products and do great things socially at the same time.
Since its inception, the Tui Balms business has been operating with a collaborative social enterprise business model. In the 1980s, the original bee balm was hand poured by volunteers in the kitchen of the community farm house with most profits going back into the business and the community. As they out grew the volunteer model, a worker's cooperative was established, with the understanding that 100% of the profits not used within the business would be distributed to registered charities.
Each year Tui Balms donations are at least 5% of their sales. In the 2016 / 2017 financial year over $38,000 went to 18 different charities include Earthcare Education, Habitat for Humanity and the Wilderland Trust.
It has been 33 years since the humble beginnings of hand pouring bee balm in the community kitchen. Now Tui Balms have their own on-site purpose-built premises. Filling has been automated, the branding re-imagined and their growth is supporting great causes.
Tui Balms use certified organic, local sourced beeswax, and pure olive and almond oils as carriers for the active ingredients, all of which occur in nature. Tui Balms use Vitamin E sourced from non GMO soybeans which acts as a natural preservative and they also do not contain water which reduces the need for preservatives and emulsifiers. The balms are free of parabens, stabalizers, coloring agents and synthetic fragrances, preservatives or emulsifiers. Tui balms have never been tested on animals.
Sarah Ayala, CEO of The Kiwi Importer has a PhD in collaborative agri-business and is excited to be working with a company with a genuinely collaborative business model, an awesome product and a company that is making such a positive impact within the environment in which they operate.