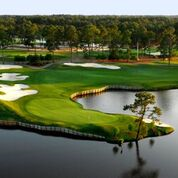 We recognize the impact this golf competition can have on the future success of these juniors.
Myrtle Beach, S.C (PRWEB) July 27, 2017
Hundreds of Junior golfers will have a chance to show off their skills in Myrtle Beach this November at the George Holliday Memorial Junior Tournament. Celebrating its 49th year, this renowned tournament offers an impressive competition for vacationers, golf fanatics, and families to enjoy. The tournament also offers juniors an opportunity to challenge their abilities at one of the nation's premier junior golf competitions.
Held on Thanksgiving weekend, November 23-25, 2017, the George Holliday Tournament contestants will have the opportunity to play some of Myrtle Beach's most beautiful courses, including Kings North, SouthCreek, and Myrtle Beach National. Registration is open until November 21. However, as the tournament boasts of past participants including, Lucas Glover, D.J Trahan, and Kristy McPherson, hundreds of golfers come out in hopes of following in the footsteps of the greats. Participants are encouraged to register early as these divisions fill up fast. In fact last year, the 16 to 18 year-old division sold out. All golfers must be ages 18 years or younger as of November 23.
"We are honored to welcome back participants to this event," said Brad Crumling, head golf professional at Myrtle Beach National Golf Club. "We recognize the impact this competition can have on the future success of these juniors. As George believed in the importance of golf in instilling values in lives of young golfers, we too believe the impact of this tournament reach beyond just the golf course."
The George Holliday Junior Golf Tournament is the third oldest junior golf tournament in South Carolina. Each year, the tournament is held in remembrance of a George Judson Holliday III, a successful junior and collegiate golfer who was tragically killed in an automobile accident in 1967. At the age of 22, the young golfer already recognized the impact his golfing experience as a junior had on molding his future successes. 3
George was a Gallivant Ferry, South Carolina native and his family established the event to allow other juniors an opportunity compete in a high-caliber tournament setting.
The competition division consists of boys ages 10-11, 12-13, 14-15, and 16-18 years of age. There are three age brackets in the girls' division: 10-12, 13-14 and 15-18 years of age.
Thousands of golfers from across the country flock to Myrtle Beach each year to participate in the event. Last year, the event welcomed golfers from Alabama, Delaware, Georgia, Kentucky, Indiana, Maryland, Massachusetts, New Jersey, New York, North Carolina, Ohio, Pennsylvania, South Carolina, Tennessee, Texas, Virginia, Wisconsin, and Mexico.
Last year's Boys Overall Champion was Connor Burgess from Lynchburg, Virginia. The Girls Overall Champion was Gracyn Burgess from Lexington, South Carolina.
The public is invited to attend the tournament at no charge. More information about the event is available at http://www.mbn.com/golf-events/george-holliday-jr.-tournament or by calling Myrtle Beach National at 843-448-2308.
About Founders Group International
Founders Group International (FGI) is the foremost golf course owner-operator company in the Southeastern United States. Formed in 2014 through various purchases and the 2015 acquisition of National Golf Management, FGI owns and operates 22 golf courses (423 holes) in and around Myrtle Beach, S.C., America's seaside golf capital.
Those courses include Pine Lakes Country Club, the "granddaddy" of Myrtle Beach area courses; TPC Myrtle Beach, host site of the 2019 NCAA Division I men's golf regional and Dustin Johnson World Junior Golf Championship; and Grande Dunes Resort Club, home of the Grande Dunes Golf Performance Center.
FGI administers http://www.MBN.com, a leader in online tee time bookings, as well as package outlets Ambassador Golf and Myrtle Beach Golf Trips. With the help of Golf Insider's 100 percent player-generated course ranking system, thousands of golfers plan and assemble their ideal golf itineraries through FGI's assets, including "top-100 caliber" courses Pawleys Plantation Golf & Country Club, King's North at Myrtle Beach National Golf Club, and more than 80 other Myrtle Beach area courses.
More information about Founders Group International, is available at http://www.foundersgroupinternational.com, http://www.mbn.com or MyrtleBeachGolfTrips.com