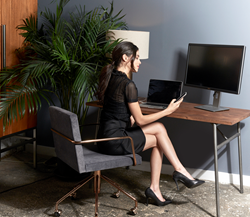 After starting to pay attention to the construction of women's shoes, I realized that it's a racket
NEW YORK, (PRWEB) July 27, 2017
Antonia Saint Dunbar, one of the THINX Co-Founders, led the design of game-changing, period-proof innovations at THINX, which was named TIME Magazine's Best Inventions of 2015. Dunbar has now created a new solution: high-tech heels and flats that feel like sneakers on the inside. Similar to her successful launch of THINX, Dunbar's new shoe campaign, Antonia Saint NY, launched on Kickstarter with a bang. THINX, which raised over $64K on Kickstarter, now sells to millions of fans in over 60 countries and has been named Entrepreneur's "Most Brilliant Companies of 2016" and Fast Company's "Top 50 Most Innovative Companies of 2017."
With Antonia's new venture, she has worked with her team to develop several patents to make classic heels and flats surround the foot with cushioned support so they can be better instruments for walking and moving through life. The idea came when she was walking long distances to her THINX HQ and her shoes were killing her.
"After starting to pay attention to the construction of women's shoes, I realized that it's a racket," said Antonia Dunbar, Co-Founder and CEO of Antonia Saint NY. "Either the shoe is overpriced without technology for comfort, and with cheap components - heel tips that snap off, leather heels that scrape easily, red bottoms that scuff and have no traction, etc. - or the shoe itself is intended to be cheaply made and cost less, but your feet pay the price. It was incredibly frustrating and I knew there had to be a better way."
For the past two years, she developed the SoftSurround System™ to solve pain points around the foot. She brought on shoe-making experts Keiko Hirosue and Rebecca Heykes, and consulted with celebrity podiatric surgeon Dr. Suzanne Levine to make sure that all of the other main foot issues women faced were covered. Dr. Levine has worked with almost 200,000 patients over her 30-year career, many of whom are high-profile celebrities, and even wrote the book "My Feet Are Killing Me."
With their professional expertise, Antonia finalized the design of her patent-pending SoftSurround System™ that contains:
A Cushioned Footbed Insert:

Cushion at the base of the big toe to prevent sharp sesamoid bone pain under the big toe joint
Triple-elevated cushion under ball of the foot to withstand 2.5x the body weight from a high heel
Overall dual-layered foam support to soften and cushion entire foot
Tri Arch Support™ for the Inner (Medial), Outer (Lateral), and Middle (Transverse) Arch
Deep cushioned heel cup for extra stability
Cushioned Technology Built into the Top of the Shoe:

Embedded heel cushions softly grip the back of the heel to prevent blisters and heel gap
Side cushioning comfort strips to gently hold foot as it changes depending on time of day
Embedded front cushioning band over the tops of the toes to protect long toes
High-Quality, Thoughtful Shoe Construction:

Deeper toe-box to provide more room around toes
Ballistic Nylon-wrapped heels, so no more nicks or tears of the wrapped heel post itself
Reinforced tips for longer wear, and to help prevent scuffs on top of toes
Hi-tech injected foam outsole for maximum flexibility and shock absorption
High-abrasion-resistant heel tips that lasts 5x as long
Superior, soft materials to conform to the shape of the foot, especially as foot expands during day
Thoughtfully folded and stitched seams to ensure the softest materials are against the foot
A carefully constructed exo-skeleton embedded into the shoe layers to disguise all technology
About Pricing
The Victoria High Heel (heel height of 3.5 inches/95mm) is exclusively available with free shipping and custom fitting for $236 (39% off) on Kickstarter until September 3, 2017. Future cost is $295 + $70 for custom fitting if that service is chosen. The Jane Autumn Flat is exclusively available with free shipping and custom fitting for $180 (35% off) on Kickstarter until September 3, 2017. Future cost is $225 with + $70 for custom fitting if that service is chosen. After the campaign ends, shoes will be exclusively available worldwide at http://www.antoniasaintny.com. To take advantage of early bird deals, visit the campaign at bit.ly/AntoniaSaintKS.
About Antonia Saint NY
Antonia Saint NY makes high tech heels and flats feel like sneakers inside with a patent-pending SoftSurround System™ and customized fitting process via their proprietary Fit Profile™ and Fit Kit™. All customized orders are assembled at the newly launched Brooklyn Shoe Factory, that was Co-Founded by Antonia Saint NY with the intention to grow jobs in the U.S.
Antonia Saint NY is the third business of Antonia Saint Dunbar who is one of the three Co-Founders of THINX and Icon, solutions companies for women providing performance underwear, activewear and other innovations in the feminine care space. THINX has garnered 18,000 press mentions, has a fanbase of millions of customers in 60+ countries worldwide, and was named TIME Magazine's Best Inventions of 2015, Entrepreneur's Most Brilliant Companies of 2016, and Fast Company's Top 50 Most Innovative Companies of 2017.