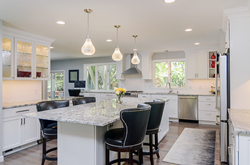 Burnsville, Minnesota (PRWEB) July 28, 2017
Titus Contracting, a home remodeling company serving the Twin Cities area, recently completed a main level remodel in Edina, Minnesota. The remodeling project transformed the home into a much more open and functional space.
Recent remodeling designs have been trending toward open spaces that are bright and incorporate both function and energy efficiency. The homeowners in Edina were looking to open up their dark and cramped kitchen and turn their home into a beautiful open concept space.
One of the main challenges Titus Contracting faced in this remodel was finding a way to remove load bearing walls to open up the space in the home. With some creative engineering and design, the remodelers were able to make it happen for their clients.
After opening up the space, the crew focused on updating the design to make it brighter and more contemporary. This included upgrading the millwork to larger white enamel woodwork, updating finishes throughout the space, and completing a full kitchen remodel.
The new kitchen features white cabinets (some with glass inset doors), quartz counter tops, gourmet appliances, tile backsplash and LED recessed lighting under the cabinets and inside the glass door cabinets. New hardwood floors were installed throughout the main level creating a consistent flow throughout the space. The stair railings were also given a more contemporary makeover using a combination of wood and iron.
Titus Contracting was able to deliver the open space their clients dreamed of having in their home. Now, the family has a great meeting place where they can share meals and discuss daily happenings. The new space not only looks better, but functions better too.
Titus Contracting is a residential remodeling company serving Minneapolis, St Paul and the entire Twin Cities area. They specialize in kitchen remodeling, bathroom renovations, home additions, lower level finishing and home theaters. Titus Contracting has been a trusted name in the industry for many years, building on their mission of turning client's construction dreams into reality. They do this with good communication and quality work. In addition to residential services, Titus Contracting also has a commercial remodeling division.