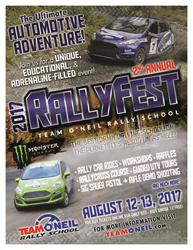 (PRWEB) July 27, 2017
Dalton, New Hampshire (July, 2017) – Families, rally enthusiasts, local residents and visitors to the White Mountains can enjoy RallyFest, a celebration of all things rally car related on August 12-13, 2017 at the Team O'Neil Rally School in Dalton, NH. The second-annual event is a chance for guests to visit the 600-acre facility and enjoy rally car rides, Kawasaki UTV tours, a rally cross course, shooting demos with Sig Sauer Academy, educational sessions, touch a truck/car, food and much more.
Located just outside Littleton, NH, Team O'Neil Rally School has been teaching loose surface driving skills for over 20 years. The school is an international destination for automotive enthusiasts, thrill seekers, professional auto racers, extreme sports athletes and more. The event is an opportunity for automotive enthusiasts of all types to experience the Team O'Neil facility, learn more about rally car racing and enjoy other outdoor activities in NH's White Mountains.
General admission is $20 per day (ages 12 and under are free with adult supervision). Advanced registration is encouraged and is available online at http://www.TeamOneil.com. Those registering in advance will be eligible to win a Traxxas Drone courtesy of Monster Energy. The drawing will be held on Friday, August 11, the winner will receive the prize at the event upon arrival.
Gold Packages cost $80 and include 1 admission, 1 rally car ride, 1 run on the rally cross course, 1 UTV tour seat, and 1 pistol & 1 rifle magazine. VIP passes are available for $200 and include 1 admission, unlimited rally car rides/rally cross runs/UTV tours, 2 pistol & 2 rifle magazines, and lunch. A rally cross package is also available for $100 and includes 1 admission and unlimited rally cross runs (packages are for one day only and rally cross participants must use their own vehicle.)
Some activities are available free of charge, with others having an additional cost. Free activities include touch a truck/car, rally ride spectating, and seminars including the opportunity to learn to drive a manual transmission, rally/auto racing photography (bring your own camera), rally navigation, rally mechanical training, how to get started in rally and more.
To learn more or to buy your tickets visit: http://www.TeamOneil.com.
About Team O'Neil Rally School
For the past 20 years Team O'Neil Rally School located in Dalton, NH has offered a variety of dirt and gravel road driving courses, including rally driving, winter safe driving, off-road and security courses for individuals, private companies and government agencies. Courses offer educational and recreational experiences appropriate for all abilities. The facility sits on 585 acres of rolling terrain with over 6 miles of stage rally roads, and miles of OHRV and four-wheel drive trails. The Motorsports division offers competition rally car preparation, support and serves as the United States distributor of M-Sport parts and car kits. For more information visit teamoneil.com.