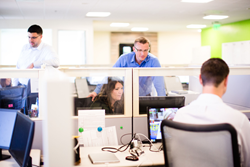 The innovation and growth taking place in the med-tech industry combined with the current opportunities available here, makes this a perfect time for veterans seeking an exciting career path in life sciences. - Tim Gleeson
Carlsbad, CA (PRWEB) September 12, 2017
Novasyte, the outsourced contract clinical, field service and recall experts in the med-tech space, and MVPvets, a nonprofit organization that empowers veterans and transitioning military to find careers in the life science industry, officially announced their partnership for 2017 and 2018.
MVPvets serves as a bridge between men and women transitioning out of the military and into life science companies by helping veterans build their knowledge of the industry and improve their job-seeking skills. They partner with select organizations in the life sciences industry to re-engage veterans into new and exciting career opportunities.
Novasyte is able to offer veterans medical, technology, and internal positions by training them and giving them the skill set necessary to be successful in today's medical device/technology workforce. We are hiring veterans and onboarding them in a specialized way that translates military experience into the available career opportunities at Novasyte.
"I am looking forward to a promising future and partnership with MVPvets and am excited to see the impact the veterans will make here at Novasyte," said Tim Gleeson, Novasyte Founder and CEO. "The innovation and growth taking place in the med-tech industry combined with the current opportunities available here, makes this a perfect time for veterans seeking an exciting career path in life sciences."
The available positions Novasyte is currently offering, includes: clinical nurse educator, biomedical technician (field service technician), respiratory therapist, and ultrasound sonographer.
"The ability of veterans to stay focused under pressure, problem solve, display leadership, and effectively manage projects are all qualities that will bring continued success to our business," said Joe Andrew, Novasyte Co-Founder and SVP of Operations and Quality. "We're looking forward to having even more of these skilled individuals join our team in the coming years."
Watch our partnership video here.
Veterans interested in participating in the MVP Program can go to http://www.mvpvets.org to learn more.
Novasyte partners with med-tech companies, offering outsourced commercial service teams for clinical, sales, field technical and recall support. Our flexible model enables us to build, deploy and manage teams that expand and contract to meet our clients' customer-facing needs. Program success is tracked and measured with our real-time business intelligence analytics that provide our clients with critical insights into their most important resources - their people and their customers.