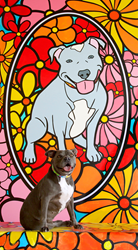 More than 9,000 children and adults throughout Los Angeles have participated in visually transforming and revitalizing the care centers
Los Angeles, CA (PRWEB) July 27, 2017
Portraits of Hope will introduce the new look for LA County's Agoura Animal Care Center at a showcasing event on Friday, July, 28th at 11A in front of the horse area. All LA County animal shelter revitalizations by Portraits of Hope are imminent with the Carson Animal Center nearing its colorful makeover as well. Los Angeles County is the lead jurisdiction for Portraits of Hope's latest civic project which will see the program revitalize and visually makeover animal shelters and care centers across the country in a bid to highlight the sites as public destinations and drive more people to visit and take home a shelter dog, cat, rabbit, horse, or other animal. This is the beginning of a national Portraits of Hope initiative to promote pet adoption by making animal care centers and shelters more inviting places for the public. More than 9,000 children and adults throughout Los Angeles have participated in visually transforming and revitalizing the care centers in the course of their participation in the program, mostly at Plaza El Segundo in El Segundo.
The majority of the colorful artwork was painted by children who took part in Portraits of Hope creative therapy and civic leadership sessions in schools, hospitals, and youth programs. Social service and community groups also participated reflecting the projects integrated themes of public art, civic education, community engagement, creative therapy, and teamwork.
This Portraits of Hope initiative is a continuation of the program's large-scale, national projects which have brightened and visually transformed public settings and symbols ranging from the NYC taxi fleet, blimps, planes, lakes, and buildings to LA's coastal lifeguard towers, urban laundromats/lavanderias, and frontline fire and rescue vehicles by working with organizations from NASA to NASCAR.
Founded by brothers Ed Massey and Bernie Massey, Portraits of Hope has involved tens of thousands of children and adults and more than 1,000 schools, hospitals, and social service programs in its large-scale civic collaborations and initiatives.
Portraits of Hope graciously acknowledges Supervisor Sheila Kuehl who championed the effort with fellow LA County supervisors who voted unanimously to approve the initiative. Supervisor Kuehl will lead the event at the Agoura animal care center on Friday with leaders from the LA County Department of Animal Care and Control.
Agoura Animal Care Center Showcasing Event Info:
When: Friday, July 28, at 11A
Where: Agoura Animal Care Center (29525 Agoura Rd, Agoura Hills, CA 91301
What: Dog, Cat, Rabbit, and Horse lovers can come enjoy and take a first look at the new look Agoura Animal Care Center.
For media inquiries or to schedule an interview please contact Steve Ricci at media(at)portraitsofhope(dot)org or call 310-951-5936.
Animal Shelter Revitalizations Background:
Portraits of Hope founders and brothers Ed Massey and Bernie Massey approached LA County first because the county contracts with 49 different municipalities and processes more animals in its shelters than any other jurisdiction in the U.S. -- more than 80,000 animals a year. The program hopes to involve a great number of shelters throughout the country in the next 2-3 years.
As in other Portraits of Hope projects, the animal shelter effort is a privately funded initiative supported and led by civic-spirited foundations, businesses and individuals who share the projects themes and goals. Taking a leading role in support are Maddie's Fund , Niagara Cares, THE GOLDRICH FAMILY FOUNDATION, FEDERAL REALTY, VISTA PAINT, with additional generous support from Image Options, EFI/Vutek, Gilman Bros., Laird Plastics, Tim Bennet, Andy Boyle, Wooster, Helen & Peter Bing, Annenberg Foundation, Debby and Hal Jacobs Family Fund of JEC, Nancy & Bruce Newberg Fund, Royal Langnickel, Melrose PR, Jain Americas, DayGlo, The Davidow Charitable Fund, Kit-Kat CA Clock Co, Genuine Burro Brand, Bannerworld, Herc Rentals, Cook's Doors & Windows, among others.
About Portraits of Hope:
Portraits of Hope, a 501 (c)(3) program, develops high-profile motivational art and civic projects that merge the production and exhibition of dynamic public art with creative therapy for hospitalized children, civic education for students in schools, and community engagement opportunities for people of all ages. Founded by brothers Ed Massey and Bernie Massey, the Portraits of Hope program is aimed at enriching the lives of children and adults - many who may be coping with serious illness, disabilities, adversity, or socio-economic challenges - through their participation in creative, educational, high-profile, one-of-a-kind projects. Portraits of Hope has involved tens of thousands of children and adults in huge civic collaborations - in the U.S. and abroad – that have visually transformed everything from airplanes, lakes, buildings, tugboats, and the New York City taxi fleet to LA's coastal lifeguard towers, race cars, blimps, laundromats/lavanderias, and frontline fire and rescue vehicles, by working with organizations from NASA to NASCAR. More than 1,000 hospitals, schools, and social service agencies have directly participated in Portraits of Hope projects in addition to a broad array of adult civic groups.
The last LA project for POH was The Spheres at MacArthur Park project, involving 3,000 floating spheres at the historic park and 11,000 persons.