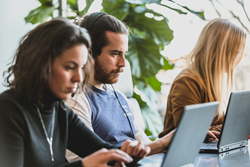 Terry's knowledge of the the industry paired with his experience and contacts will be extremely valuable in helping us expand our professional services practice
Montreal, Quebec (PRWEB) July 27, 2017
Nu Echo, premier solutions provider and consulting firm for contact centers adds seasoned professional services management expertise to its team with the hiring of Mr. Terry Petch. Terry will join Nu Echo as Director of Consulting Services for Central and Western Canada. Nu Echo provides unparalleled technical expertise for contact center deployments, migrations, testing, custom development as well as speech applications and tuning. Their success in the field is primarily attributed to the innovation and rigor that the team brings to the solutions they deliver to both clients and partners alike.
Terry Petch has deep expertise in professional services, consultation, IVR, contact centers, Genesys systems and solutions and more. With this in depth knowledge and experience in building a PS practice, he will help Nu Echo expand and forge new business opportunities. Rogers Communications, Genesys, Aria, Cisco, and TD Bank are just a few companies where Terry gained his experience, with titles such as Senior Management Consultant, PS Director, and Solutions Architect.
"The contact center market is tight knit community. Terry's knowledge of the the industry paired with his experience and contacts will be extremely valuable in helping us expand our professional services practice across Western Canada." stated Mr. Daniel Paradis, VP Business Development.
"We are pleased to announce that Terry will be working with Nu Echo" stated Mr. Christophe Furet, VP Consulting Services. "With his vast experience and background, Terry will bring our clients a new perspectives on how to improve their CCC solutions helping to bring them to the next level."
Business at Nu Echo has been in constant expansion over the past few years, and Terry will help Nu Echo set itself up as the go to provider of CCC solutions and CX innovation.
As Nu Echo expands, the company is in a constant search for new members to join the team. If you have experience in CCC consulting and or development and are looking for new opportunities with the possibility of career advancement, it is worthwhile checking out Nu Echo's career page. Current roles that Nu Echo is trying to fill include: full time Contact Center Technical Consultant in Montreal/Toronto and Java developers. https://www.nuecho.com/en/careers/
Nu Echo; CCC Solutions Providers; Outside-the-box thinking everyday
Our clients are enterprise level organizations who turn to us for the deployment, integration, customization and optimization of their CCC solutions. As a boutique style consulting firm our creativity and agility help our clients stay ahead of trends in client interactions. At Nu Echo, three interrelated practices allow us to deliver customer contact center innovation: Omnichannel CCC consulting & solutions, testing & monitoring and speech applications and tuning. Visit Nu Echo at http://www.nuecho.com, Tel.: +1-514-861-3246, info@nuecho.com
Follow us on social media:
Facebook: http://www.facebook.com/nuechoinc
LinkedIn: http://www.linkedin.com/company/nu-echo
Twitter: twitter.com/nuecho
Media Contact:
S. Quinn
Director Marketing, Nu Echo
squinn(at)nuecho.com