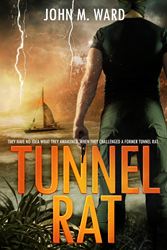 A fast-paced, action-packed read that's very highly recommended for suspenseful, action-thriller fans!
Tallahassee, Florida (PRWEB) July 31, 2017
Announcing the thrilling, new, action-packed debut release, "Tunnel Rat" by John M. Ward.
About the book, "Tunnel Rat":
When former US Army captain Eric Tucker decides to visit Old City in Jerusalem with his daughter and granddaughter, he thought it would be a chance to get some family time with his girls and enjoy his retirement, but when a terrorist organization threatens his family's safety, Captain Tucker must reach deep into his past in order to survive. Can he do it without becoming the cold-blooded killer he once was?
Emir Farouk is falling on hard times, and the loyalty that once came so easily to him is dwindling. When an old man and a teenage girl from America appear in his sights, he believes it is a sign and orders his men to kidnap them. But things don't go as planned…
What follows is an intense cat-and-mouse game between a powerful terrorist cell and one man who's determined to protect his family, the woman he loves, and his ship. Captain Tucker can't—and won't—give in, even if it means once again becoming the man who led an elite unit of soldiers into claustrophobic tunnels after their enemies with nothing but flashlights, knives, and pistols: the infamous Tunnel Rats.
About the author, John M. Ward:
John M. Ward is a professional architect and author. He also loves anything that has to do with water and the ocean, including sailing, scuba diving, fishing, and spearfishing. He lives in Tallahassee, Florida.
For more information about "Tunnel Rat", author John M. Ward and to purchase a copy of the book, please visit http://johnmorrisward.com/.
About Nurture Your BOOKS™
Nurture Your BOOKS™ is a Literary PR and promotion company based in Ontario, Canada. It is owned and run by the Company's CEO & Founder, Bobbie Crawford. As a Nurture Your BOOKS™ client you are backed by a hard-working, relevant company that works tirelessly to help you realize your book publicity and marketing goals at http://www.nurtureyourbooks.com.