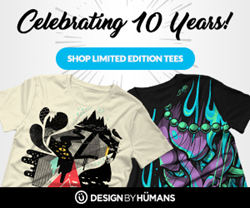 It's been truly amazing to work with the most talented team members to empower artists throughout the world to create art that tells a story.
Chico, CA (PRWEB) July 31, 2017
The DBH community understands the importance of artistic expression and is proud to be a key player in sharing it with the rest of the world. They're excited to celebrate 10 years of promoting apparel innovation, community, and creative design by offering a limited edition t-shirt collection! Celebrate DBH's 10th Anniversary with an exclusive screen printed tee, featuring a variety of print techniques including jumbo, all over prints, and the artist's signature on the back.
DBH invited five of their original artists from around the world to create a limited 10th Anniversary design. Each design, available for $24 or $100 for all five, has its own unique blend of creative expression and undeniable magnetism.
Kdeuce, hailing from the Philippines and living in Hawaii, has fashioned a distinctive Koi design that echoes of Japanese calligraphy, with its smooth and feathered brush stroke. The grayscale design pops with turquoise highlights and moves with such grace and elegance that it practically swims off the shirt.
Mathiole, from Brazil, created an unexpected vision of dichotomy with a space traveler, overgrown with roses, floating aimlessly through the cosmos. Mathiole's creative contributions to DBH, beginning in 2007, make him a beloved artist who never ceases to offer fans a journey into the imagination.
Mr-Nicolo offers a pulsating piece that captures your soul with its vibrancy and echoes of the mysterious. The prolific artist, also from the Philippines, created some of the most memorable t-shirt designs for fans and has been named one of the 20 Best Young Designers by BluPrint Magazine.
Neonbeast, from the US, invites you to visit a world where the geometric meets daydream, where exotic vision blurs reality and fantasy, and where artistic expression meets amazing technique. A dream landscape opens a door to illusion and invites you to become a part of the riddle.
Nicebleed, a collaborative duo of brothers from the Philippines, captures a moment in time with such exquisite detail that each glimpse offers new insight and inspiration. The pair, regularly featured in the DBH top 50 most wanted designs, continues to create striking and one-of-a-kind visions.
Check out these limited designs now: https://www.designbyhumans.com/dbh-10-year-anniversary/.
Design By Humans' President Jeff Sierra admits, "It's been truly amazing to work with the most talented team members to empower artists throughout the world to create art that tells a story. DBH was born in 2007 with the simple vision of bringing artists around the globe together to give them a platform to produce wearable art that inspires creativity and design. I'm proud to have watched the DBH network grow and evolve over the years and, truthfully, I still get excited every day to be a part of this amazing community."
Join the DBH community in celebrating a wonderful 10 years! There won't be cake…but there will be amazing art and even more amazing t-shirts!
About Design By Humans:
Design By Humans offers a platform for independent artists, gamers, and YouTubers to create and showcase their unique artwork as phone cases, wall prints, graphic t-shirts, tanks, and more. Celebrating a remarkable 10 year career this July, Design By Humans has woven a shared spirit that thrives on designing vibrant and meaningful art. To learn more about our vision, please visit: https://www.designbyhumans.com/our-story/.
DBH works to build an environment that respects collaboration, quality, integrity, and the entrepreneurial spirit. The DBH Collective is inspired by the comical as well as the abstract, the imagined and the concrete; and we work to create innovative art that is an expression and a reflection of today's society.
The DBH team is made up of gaming fiends, art-enthusiasts, pop culture fanatics. Most importantly, however, DBH is a passionate team of independent creators who love to create designs that inspire the next generation of trendsetters from around the world.
To become a part of the Design By Humans community and submit designs today, please visit: https://www.designbyhumans.com/become-an-artist/ and learn more!
Follow Design By Humans on Facebook at /DesignByHumans, on Instagram at DesignByHumans with #designbyhumans, and on Twitter @DesignByHumans.