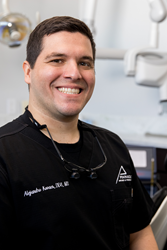 Longview, TX (PRWEB) July 27, 2017
Patients with missing teeth now have the option to receive a new set of teeth in a single office visit from Dr. Alejandro Kovacs. Dr. Kovacs is a board-certified periodontist and prosthodontist who offers convenient and comfortable treatment solutions to his East Texas patients, including Teeth-in-a-Day® dental implants in Longview, TX.
During traditional dental implant placement procedures, posts are surgically implanted in the jaw, but restorative crowns are not placed on top until the surgical site has healed. This means that the treated teeth are not functional for a few months. The Teeth-in-a-Day procedure makes it possible for patients to receive fully functional tooth replacements in one office visit by placing restorations on the implant posts during the same visit. The procedure allows patients to walk out of the office with an aesthetically improved, fully functional, new smile.
Dr. Kovacs is a dual board-certified specialist in periodontics and prosthodontics and is highly qualified to perform dental implant procedures. He uses the Teeth-in-a-Day procedure to replace multiple missing teeth or full arches. The procedure is done by inserting implant posts directly into the bone of the jaw, then attaching a new set of prosthetic teeth to the posts. The prosthetic restoration is skillfully designed to look and feel like a natural set of teeth, and it will not move around in the mouth or fall out. Dr. Kovacs specializes in dental implant treatment and applies Cone Beam CT imaging, along with other modern technology, to offer precise, dependable care.
Patients in the greater East Texas area with multiple missing teeth are invited to receive convenient, full or partial arch tooth replacements from Dr. Kovacs. Individuals who wish to find out if they are good candidates for Teeth-in-a-Day dental implants in Longview, TX, are encouraged to call Pinnacle Implants & Periodontics at 903-758-3329 to schedule a consultation.
About the Practice
Pinnacle Implants & Periodontics offers comprehensive periodontal care for patients in Longview, TX. Dr. Alejandro Kovacs is a Diplomate of the American Board of Periodontology, the American Board of Prosthodontics as well as the International Congress of Oral Implantologists. As one of only a few dual-specialized clinicians in the nation practicing as a periodontist and prosthodontist, he offers cutting-edge services including dental implants, laser gum disease treatment, gum recession care and full mouth reconstruction. To learn more about Dr. Kovacs, his team or the services they offer, visit http://www.pinnacleperio.com or call Pinnacle Implants & Periodontics at 903-758-3329 to schedule a personalized consultation.