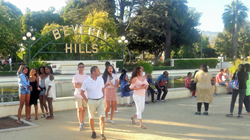 Beverly Hills, CA (PRWEB) July 31, 2017
Portraits of Hope's next public art and civic project, Neon Nights in 3D, will have more than 1,000 art discs painted in brilliant fluorescent colors floating on and visually transforming the Lily Pond on Santa Monica Boulevard in the heart of Beverly Hills. Visitors can enjoy the installation's spectacular view both day and night with 3D glasses on Thursday, Friday, and Saturday nights that allow visitors to experience the magical colors of the illuminated art discs. The exhibition -- a visual and colorful reinterpretation of "lilies" – will open Wednesday, August 2nd at 8:00pm and run through the end of August.
Artist and Co-Founder Ed Massey talks about his excitement for the project, "What makes this installation so unique on a global level is that not only are the discs going to look beautiful in the daylight, but at nighttime, we will illuminate them with handheld black lights. Colors will react differently under the black light, so certain colors are going to pop out, creating a magnificent display of colors."
The historic Lily Pond in Beverly Hills, located in front of the giant Beverly Hills sign, is the most frequented pedestrian and bus tour stop in the world-renown city with thousands of daily visitors and photographs capturing the site. So as Beverly Hills pushes its business-after-dark initiative, Neon Nights in 3D will capture the attention of locals and tourists alike.
The fluorescent floral theme art discs will be hand-painted by participants in the Portraits of Hope program. The exhibition coincides with the Portraits of Hope revitalizations of the LA County animal shelters and many more of the art discs are soon to be installed at the animal care centers. For more information about the animal shelter initiatives, please visit this press release.
The Neon Nights in 3D installation will be displayed from August 3rd- August 31st.
For media inquiries, please contact Steve Ricci at media(at)portraitsofhope(dot)org or call (310)951-5934 or contact Jesse Lucas at Melrose PR- jesse(at)melrosepr.com
About Portraits of Hope:
Portraits of Hope, a 501 (c)(3) program, develops high-profile motivational art and civic projects that merge the production and exhibition of dynamic public art with creative therapy for hospitalized children, civic education for students in schools, and community engagement opportunities for people of all ages. Founded by brothers Ed Massey and Bernie Massey, the Portraits of Hope program is aimed at enriching the lives of children and adults - many who may be coping with serious illness, disabilities, adversity, or socioeconomic challenges - through their participation in creative, educational, high-profile, one-of-a-kind projects. Portraits of Hope has involved tens of thousands of children and adults in huge civic collaborations - in the U.S. and abroad – that have visually transformed everything from airplanes, lakes, buildings, tugboats, and the New York City taxi fleet to LA's coastal lifeguard towers, race cars, blimps, laundromats/lavanderias, and frontline fire and rescue vehicles, by working with organizations from NASA to NASCAR. More than 1,000 hospitals, schools, and social service agencies have directly participated in Portraits of Hope projects in addition to a broad array of adult civic groups.