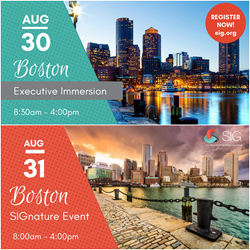 SIGnature events give our members a chance to really connect and learn from their peers in a local community
Boston, MA (PRWEB) July 28, 2017
SIG, the premier membership organization for sourcing, procurement and outsourcing executives, today announced the Executive Immersion Program (EIP) and SIGnature event taking place in Boston, MA. This is the launch of the EIP in Boston and the return of the SIGnature Event, formerly known as the Regional Roundtable and Symposium program.
The Executive Immersion Program will take place on Wednesday, August 30th from 8:00 am – 4:00 pm and will offer intensive workshops in contract negotiation and contract construction in today's world of RPA and AI. Hosted and facilitated by Morgan Lewis, this event will allow attendees to gain expertise from thought leaders Ed Hansen and Doneld Shelkey, while simultaneously networking with local colleagues. These innovative industry leaders will focus on information technology–enabled transformation as well as customer and vendor outsourcing deal management and outline best practices to maximize business value across hardware, software, cloud, network, outsourcing, and integrated solutions sourcing. The day will also include a look at a case study, Is your BPO Robo Ready? Putting it all Together. This afternoon session will apply concepts learned in the morning workshop by examining RPA as part of a BPO solution. We will explore how shifting technology affects the BPO value proposition.
The Boston SIGnature event will be on Thursday, August 31st from 8:00 am – 3:30 pm and is focused on the issues related to talent management with topics ranging from workforce strategies to employee retention in a competitive environment. Specific sessions will be held on: Effective Workforce Strategies for the New World of Work; The Growth of Mid-Market Labor; and Driving Productivity Through Competency Alignment. SIG will be joined by thought leaders, Allegis Global Solutions, Iron Mountain and other buy-side executives to deliver best practices. In addition, delegates will participate in a facilitated peer-to-peer grand roundtable and smaller round-robin breakout discussions on driving efficiency in the procurement process, optimizing supply chain management as well as artificial intelligence and its impact on the new world of work. Attendees will wrap up the day with a networking reception.
"SIGnature events give our members a chance to really connect and learn from their peers in a local community," says John Powell, SIG's Director of Member Development. "We facilitate the day and get the dialogues started, but we are always thrilled when we hear that the conversations have continued months and even years later."
About SIG
SIG, is a membership organization that provides thought leadership and networking opportunities to executives in sourcing, procurement and outsourcing from Fortune 500 and Global 1000 companies and the advisors who serve them. SIG is widely known as a forum for sharing "next" practices and thought leadership through live networking events, virtual forums and a comprehensive online SIG resource center (SRC), which was developed by and for professionals in sourcing and outsourcing. The organization is unique in that it blends practitioners, service providers and advisory firms in a non-commercial environment. SIG is also the parent organization for SIG University, a one-of-a-kind certification and training program for professionals and executives seeking deep expertise in sourcing and governance for themselves or their teams, as well as Outsource, which provides unrivaled digital content for the opinion-formers and decision-makers at the heart of the outsourcing space.