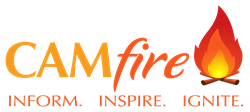 3 incredible, high energy days that will inform, inspire, and ignite a passion for the CAM industry
Clearwater, FL (PRWEB) July 28, 2017
TOPS Software is pleased to announce that registration is now open for the 2018 CAMfire Conference, a unique technology and educational event for community association management professionals.
Management company executives, community association managers, accountants and administrators across the country are invited to join TOPS and over 30 leading community association service providers for 3 incredible, high energy days that will inform, inspire, and ignite a passion for the CAM industry.
CAMfire 2018 will bring together 400+ CAM professionals at the Caribe Royale in Orlando, Florida from February 28 to March 2, 2018.
CAMfire will give individuals and teams an opportunity to obtain actionable instruction and key insights provided by expert speakers from the business world, and from within the CAM industry. Attendees get to see the latest product updates, have hands-on experiences with new technologies, give direct feedback to help shape the future of CAM technologies, and get tips and tricks directly from the experts. From best practices and how-tos, to expert panel discussions and case studies, attendees have an opportunity to learn how to improve themselves and their companies to provide better service to the community associations they serve.
Conference attendees can choose from 6 individual learning tracks offering 48 different breakout sessions focused on growing your management company, improving your services and increasing profitability, as well as more than 20 workshops specific to TOPS Software programs.
In addition to the great educational content, CAMfire also features plenty of extras! Attendees can meet with industry service providers at the expo, get product questions answered in the TOPS Zone, network with other attendees at happy hour, relax with the on-site masseuse, or party the night away with live entertainment.
Registration for the CAMfire Conference is now open to all, at a very special 'Early Bird BOGO' rate for conference attendees who register on or before September 1, 2017. Attendees are also encouraged to book their rooms early to take advantage of the special CAMfire room rate at the Caribe Royale.
Learn more about CAMfire 2018 at http://www.camfire-conference.com and be sure to follow @CAMfireCon on Twitter, Facebook and Instagram - #CAMfire18.
ABOUT TOPS SOFTWARE
TOPS Software, the leader in Condominium and HOA management solutions, is committed to bringing useful products and services to the community association management market. TOPS products are employed by thousands of organizations to manage millions of homes across the United States. Learn more about TOPS at http://www.topssoft.com.