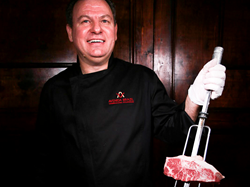 Houston, Texas (PRWEB) July 28, 2017
Avenida Brazil Churrascaria Steakhouse (formerly known as Tradicao Brazilian Steakhouse) is bringing their grills to The Woodlands, and they're doing it quietly with special pricing before they start serving Houston Restaurant Weeks.
"During the soft opening, we will be working on providing our Woodlands area customer an exceptional dining experience influenced by our Brazilian Heritage. We will be serving high quality and authentic Brazilian style grilled meats and seafood paired with the traditional salad bar and hot sides". Said Melissa Abrantes, Operations Manager of Avenida Brazil.
During the soft opening from July 26-July 30, 2017 the restaurant will have a limited time price of $35 and includes grilled HeartBrand Beef – Certified Akaushi Beef New York Strips, steaks, seafood, salad bar and hot sides.
Avenida Brazil's most authentic asset is their executive chef, Vanderlei Bernardi, who was born and raised in South Brazil. To shed some light on the level of expertise of their Brazilian chef, Melissa stated, "[Vanderlei] has passion for bringing his Brazilian culture through authentic Southern Brazilian meats and service to his home in Houston.". Bernardi is from a small village farm in South of Brazil and grew up with the Brazilian churrasco.
The Brazilian Churrascaria offers diners a full, all-you-can-eat Brazilian dining experience. From the traditional picanha top sirloin steak and filet mignon served tableside, to juicy shrimp and fresh salmon, Avenida Brazil has all of the best Brazilian steak and seafood offerings. The name may be new, but the high quality food and service will continue as usual. Reservations can be made for their Woodlands location by calling 281-651-5369.
Soft Opening Woodlands Location Hours of Operation:
Wednesday July 26 | Dinner 5 PM-9:30 PM
Thursday July 27 | Dinner 5 PM-9:30 PM
Friday July 28 | Dinner 5 PM-10 PM
Saturday July 29 | Dinner 4 PM-10 PM
Sunday July 30 | Lunch 11 AM – 3 PM
Sunday July 30 | Dinner 5 PM-9:30 PM
Limited time price per person from July 26-July 30, 2017 is $35 and includes meats, salad bar, sides. Not included are drinks, dessert, tax and gratuity. Reserve Here.
Regular Hours & Prices for Avenida Brazil Woodlands:
Address: 1400 Research Forest Dr. Shenandoah TX | 281-651-5369
Lunch: Monday - Friday 11:30am - 2:30pm | Sunday 11am - 3pm
Dinner: Monday - Thursday 5pm - 9:30pm | Friday 5pm - 10pm | Saturday 4pm - 10pm | Sunday 5pm - 9pm
Lunch: Monday - Friday $32, Sunday $37 | Dinner: Everyday $47
Salad Bar & Sides: Lunch $17, Dinner $20 | Seafood, Salad Bar & Sides: Lunch $24, Dinner $35
Kids 6-10 years old: Lunch $16, Sunday Lunch $18.50, Dinner $23.50 | Kids 5 & under: Complimentary
Includes salad bar, 15 cuts of meat, and hot sides. Does not include beverage, dessert, tax, or gratuity.
Other Locations: Clear Lake/Webster | 201 W. Bay Area Blvd. Webster TX 77598 | 281-557-9999
Southwest Houston/Fort Bend |12000 SW Freeway, Meadows Place TX 77477 | 281-277-9292
For more information and updates about Avenida Brazil visit their website at http://www.avenidasteakhouse.com.