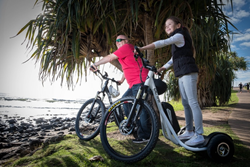 QUEENSLAND, Australia (PRWEB) July 30, 2017
When the DC-Tri team first began to develop their electric trike, they were committed to creating a high-quality personal transportation device.
The e-trike's superior components, hand-crafted features, and competitive price point set it far apart from its rivals within the e-bike market - who use similar components and have a exponentially higher price range.
The team, which is made up of some of the best bike mechanics, engineers, and metal workers, launched DC-Tri on Kickstarter last week with a $50,000 funding goal. Now, fully funded, DC-Tri is set to begin large-scale production.
DC-Tri's incredibly stable chrome-molly frame and Maxiss 26" front tire were designed and engineered to provide consumers with a steady platform, ensuring the safest ride. From the powerful Bafang 250W brushless front hub motor to the Tektro disc brakes and highly sought DNM Shock Forks, DC-Tri is certainly a forced to be reckoned with in the world of high-end e-bikes.
DC-Tri uses a top-of-the-line rechargeable 11.6AH Lithium-ion battery that can be used with any standard power outlet. On a single charge, riders can travel at speeds up to 15 mph for 30 miles on their DC-Tri trike. Consumers can also opt to self-propel or use the electric motor to ride the trike. Self-propelling allows the trike to be ridden like a scooter.
Although DC-Tri has three wheels, it's no wider than a standard bicycle (or e-bike). The selection of Intek Zoom Alloy handlebars, which are used globally on other quality devices, means that the e-trike will fit through standard doorways for easy storage.
The DC-Tri team developed their e-trike with a goal to make it easy and comfortable for people to perform their daily commutes with ease. The team hopes to see everyone, from children and adults to those with limited mobility, experiencing and enjoying DC-Tri for themselves. At the conclusion of the Kickstart campaign, DC-Tri will go into large-scale production in order to complete its initial manufacturing order. Additionally, the company will begin the development of its next project – a patented wheelchair assist trike, which will give wheelchair users incredible freedom and accessibility.
During the Kickstarter campaign, DC-Tri will be donating a number of wheelchair assist trikes globally. For more information on DC-Tri, or to back the project, visit bit.ly/DCTriKS.
About DC-Tri
Based in Australia, DC-Tri is a startup that specializes in innovation and in electric trikes. The team recently introduced their DC-Tri Commuter trike on Kickstarter. With its unique design, DC-Tri is environmentally friendly, user-friendly, safe and durable. For more information on DC-Tri, visit http://www.dc-tri.com.