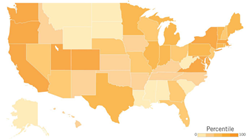 "Decisions that policymakers make today to encourage data-driven innovation will have long-term implications for states' future growth and their residents' quality of life." - Daniel Castro, director of CDI
Washington, D.C. (PRWEB) July 31, 2017
Widespread adoption of data analytics is expected to contribute hundreds of billions of dollars to the U.S. economy in coming years while addressing myriad social challenges—but not all states are equally well poised to benefit, according to a comprehensive analysis released today by the Center for Data Innovation.
The Center, a data-policy think tank affiliated with the Information Technology and Innovation Foundation, called on state policymakers to encourage and enable data-driven innovation by ensuring that high-value datasets are publicly available, key digital infrastructure is widely deployed, and necessary human capital and business resources are in place.
"Decisions that policymakers make today to encourage data-driven innovation will have long-term implications for states' future growth and their residents' quality of life," said Daniel Castro, the Center's director and the report's lead author. "Early adopters will benefit immediately from using data to make headway in addressing social challenges from energy efficiency to affordable health care. By positioning themselves at the forefront of data innovation, states will also be able to grow and attract the right kinds of companies to become hubs of the data economy."
The Center's analysis is the first of its kind, assessing states' relative strength in 25 indicators covering three categories of assets critical to encouraging and enabling data-driven innovation:

Data: the extent to which key datasets are available, including data about the government, education, health care, and energy.
Technology: the availability of key digital infrastructure, such as broadband, smart meters, and electronic health records.
People and companies: human and business resources, such as the number of open data companies in the state and the size of the data science community.
The five top-ranked states on these indicators are Massachusetts, Washington, Maryland, California, and Delaware. The report finds they are thriving hubs of data-driven innovation and shows that a sustained commitment from policymakers to supporting the data economy pays dividends. Some states benefit from certain characteristics that make them well-positioned to take advantage of data-driven innovation, such as being home to many universities. However, leading states have all taken proactive steps to unlock innovation, like supporting STEM in public schools, investing in e-government, implementing robust open-data policies, and promoting the deployment of health information technology.
The five lowest-ranking states in the index are South Carolina, Alabama, Louisiana, West Virginia, and Mississippi. All fail to significantly promote data innovation through public policies. For example, West Virginia ranks 49th overall because it has not made a significant effort to provide public access to information, increase adoption of e-prescriptions for controlled substances, or encourage the deployment of smart meters, to name a few indicators where it scored poorly.
The Center for Data Innovation offers a series of recommendations for states to better develop the underlying assets necessary for success in the data economy:
Publish legislative data in open and machine-readable formats.
Publish checkbook-level government financial data online in open and machine-readable formats.
Develop an open data portal and statewide open data policy.
Develop a publicly accessible all-payer claims database.
Promote the adoption of e-prescribing for controlled substances, such as through legislative requirements or incentive programs.
Pass legislation preventing strategic lawsuits against public participation (known as SLAPPs).
Create a statewide e-government strategy, which includes consideration of emerging technologies such as the Internet of Things, and work with municipal governments to drive e-government adoption.
Require public agencies to participate in programs such as submitting data to the Department of Energy's Building Performance Database.
Work with state utility commissions and utility providers to accelerate the adoption of smart meters.
Provide top-down leadership and support to state and municipal departments of transportation to publish transit data in real time using the General Transit Feed Specification standard.
Support efforts to increase broadband access and improve broadband speeds.
"While the data economy is rapidly maturing, these are still early days," said Castro. "Policymakers who want to maximize their state's potential to leverage data for social and economic good should continue investing now in the data, technology, and people necessary for data-driven innovation to flourish."
Read report: https://www.datainnovation.org/2017/07/best-states-for-data-innovation/
Contact: Nathan Leys, press(at)datainnovation(dot)org