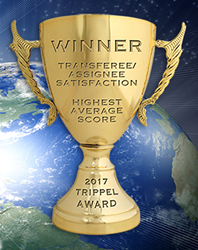 Cornerstone was built from the ground up to provide best-in-class customer service, while at the same time delivering maximum value to our clients
Basking Ridge, NJ (PRWEB) July 31, 2017
Cornerstone is pleased to announce its first-place win of the 2017 Trippel Survey Award for "transferee/assignee satisfaction". Cornerstone received the highest average score in the entire industry which includes both the large and small company categories. The 23rd annual Nationwide Relocating Employee Survey is one of three surveys Trippel Survey & Research, LLC conducts each year in the global mobility industry (the other two survey domestic and international managers).
"Cornerstone was built from the ground up to provide best-in-class customer service, while at the same time delivering maximum value to our clients," said Janelle Piatkowski, Cornerstone president and CEO. "We are elated that our dedicated client services team has been recognized for service excellence."
The annual nationwide relocating employee survey is designed to obtain unbiased evaluations from transferees or assignees moving within the United States, regarding their level of satisfaction with relocation service providers. This year, 6,647 transferees, representing 89 corporations or non-profit organizations, participated in the web-based survey.
For information on obtaining copies of the Trippel Survey & Research, LLC reports referenced here, contact Alan Trippel at alantrippel(at)att.net.
About Cornerstone Relocation Group
Cornerstone Relocation Group is an innovative, full service mobility company offering a comprehensive suite of global services designed to support the entire workforce mobility lifecycle. Cornerstone delivers custom global mobility solutions to ensure our clients and their employees are successful around the world. We are a wholly owned subsidiary of Atlas World Group with over $845 million in annual revenue. Visit http://www.crgglobal.com for more information.