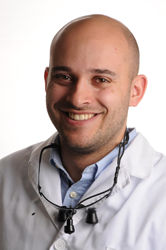 New York, NY (PRWEB) July 31, 2017
Dr. Alexander Volchonok was recently recognized as one of Connecticut's Top Dentists in 2017 by Connecticut Magazine. Dr. Volchonok is a board-certified periodontist in New York, NY and Norwalk, CT, and a Diplomate of the American Academy of Periodontology who has now received this award two years in a row. He offers leading periodontal care, including gum disease therapy and dental implants, at his private practices, AVPeriodontics, in New York, and Periodontology Associates of Norwalk, in Connecticut. To be honored as one of Connecticut's Top Dentists, award winners must be recommended by a significant number of their peers who recognize their outstanding contribution to the dental field.
Dr. Volchonok practices at two locations, one in New York, NY and one in Norwalk, CT. Integrity and quality-driven services are key pillars of Dr. Volchonok's care. Dedicating his time to the latest trainings, investing in modern technology and understanding the unique goals of each patient, Dr. Volchonok offers a premier patient experience. At his prestigious New York office, AVPeriodontics, Dr. Volchonok and his highly trained staff apply the latest techniques and technology. These include an in-house lab for faster, accurate care and Cone Beam CT imaging technology for guided dental implant placement.
Cone Beam CT imaging technology produces high-quality 3D images of the teeth and surrounding oral structures in a matter of seconds. The scans are particularly useful for dental implant placement purposes, as they allow Dr. Volchonok to place implants in the optimal location while causing minimal trauma to surrounding tissues. The Cone Beam CT imaging system exposes patients to less radiation than traditional x-ray machines while providing superior image resolution. Patients who receive dental implants from a periodontist who uses the latest imaging technology often experience a positive treatment outcome, minimal recovery time and lasting results.
Dr. Volchonok invites those with missing teeth or gum disease who are seeking a qualified periodontist in New York, NY or Norwalk, CT, to visit his practice for personalized consultation. After performing a detailed examination, Dr. Volchonok reviews the ideal treatment options to meet each patient's individualized needs. Patients are invited to call AVPeriodontics at 929-293-0200 to schedule an appointment with this award-winning periodontist.
About the Doctor
AVPeriodontics is a modern periodontal practice offering leading care to patients in New York, NY and Norwalk, CT. Dr. Alexander Volchonok is a Diplomate of the American Board of Periodontology, director and co-founder of the NYC Interdisciplinary Study Club and has lectured both nationally and internationally on various Periodontal and Implant related topics. Dr. Volchonok is dedicated to pioneering the latest minimally invasive techniques to periodontics and implant dentistry and takes a collaborative and collaborative approach to patient care. To learn more about Dr. Volchonok, the services he offers, or his practice, AVPeriodontics, visit his website at http://www.avperio.com or call his practice at 929-293-0200 to schedule a personalized consultation.