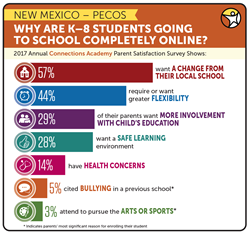 I couldn't be more proud of our teachers and staff for creating such a positive learning experience for all of our students in our first year
Carlsbad, NM (PRWEB) July 31, 2017
Pecos Connections Academy (PCA), a full-time online public charter school that serves students statewide in grades K-9, received high marks from enrolled families for the school's inaugural year, according to a recently released third-party survey.
PCA's 2016-2017 Parent Satisfaction Survey, a survey that gathers feedback from parents about the school and the virtual school experience, revealed that 92 percent of parents gave Pecos Connections Academy's online school program an "A" or "B" grade, and 91 percent would recommend the school to other parents.
According to the 48th Annual Phi Delta Kappa/Gallup Poll of the Public's Attitudes Toward the Public Schools, PCA's scores far exceed public school ratings in which just 67% of public school parents gave the school their oldest child attended an "A" or "B" grade.
Parents praised PCA for its use of technology, the quality of its teachers, and the variety of learning activities that enhanced a student's learning experience. More than 90 percent of parents reported that their children are making good academic progress, while 96 percent said they were pleased with the helpfulness of the school's teachers, specifically praising their responsiveness and accessibility.
"As educators, our goal is to provide our students and their parents with a challenging curriculum that fits their learning style so they can thrive in school and beyond," said Pecos Connections Academy Principal Jed Duggan. "I couldn't be more proud of our teachers and staff for creating such a positive learning experience for all of our students in our first year."
"The teacher is always here for us and they adapt the education to the needs of the children. I have more support and education for my children than ever before," said parent Rachel Nead.
Parents also overwhelmingly praised PCA's curriculum, with 98 percent of survey respondents calling it "high quality."
The survey also revealed why parents decided to enroll their students at Pecos Connections Academy. The top reasons included wanting a change from their local school (57 percent), a desire for greater flexibility (44 percent), and a desire for more involvement with their child's learning (29 percent).
"I love having a first-hand experience in my children's learning," said parent Tabbatha Rose. "We can go as fast as they want and as slow. I know if they don't understand something we can go over information as many times as needed. The extra help is available, and [we] don't have to be rushed through lessons."
PCA is the only full-time public school in the state of New Mexico providing an online education for students statewide in grades K-9. Its goal is to introduce a new grade every year until it serves students through 12th grade.
Enrollment is open for the 2017-2018 school year, which begins on Aug. 14. Families who are interested in learning more about the school and its award-winning curriculum are encouraged to attend one of the free information sessions taking place across the state. Please visit http://www.PecosConnectionsAcademy.com for more details.
About Pecos Connections Academy
Pecos Connections Academy is a full-time virtual public charter school that serves students in grades K-9 from across New Mexico. Founded in 2016, Pecos Connections Academy provides students in grades K-6 with a literacy-focused education and students in grades 7-9 will have access to college and career readiness courses. The virtual school combines high-quality resources from leading publishers with cutting-edge yet easy-to-use technology and hands-on materials. The school provides students with the flexibility to learn from anywhere there is an Internet connection and with an innovative online school curriculum that meets rigorous state education standards. The combination of state-certified teachers, a proven curriculum, unique electives, technology tools, and community experiences creates a supportive and successful online learning opportunity for families and children who want an individualized approach to education. For more information, visit http://www.PecosConnectionsAcademy.com.