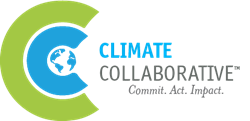 Gilsum, New Hampshire (PRWEB) July 31, 2017
Further building upon its commitment to climate action, W.S. Badger Co. today announced that it became a signatory to the Climate Collaborative, a three-year project of OSC2 and the Sustainable Food Trade Association to catalyze bold action for climate action among natural products companies.
By becoming a signatory, Badger has joined the likes of Clif Bar, Stonyfield Farm, Dr. Bronner's, New Hope, Annie's, National Co+Op Grocers, White Wave and others pledging to help reverse climate change by focusing on one or more of nine emissions-reducing areas identified by the Collaborative. Those nine areas are agriculture, energy efficiency, food waste, forest conservation, packaging, government policy, renewable energy, transportation, and short-lived climate pollutants (such as methane).
"We have always taken our role in protecting the environment very seriously, but have often considered our actions an internal effort," says Rebecca Hamilton, family owner and VP of Research & Product Development at Badger. "In the wake of our country's decision to pull out of the Paris Agreement, we now see that businesses have a responsibility to stand up and be vocal about our commitments. To inspire other to do the same, we are joining the leaders of our industry."
According to the company's recently published 2016 Impact Report, Badger is making considerable progress in reducing its carbon footprint. And as part of the work of crafting an impact plan and setting long-term climate goals, the company has committed to five of the nine climate initiatives, namely energy efficiency, policy, renewable energy, packaging, and forests.
Participating in the Climate Collaborative is a step forward in Badger's ongoing journey to develop and implement robust and sustainable solutions that exceed expectations and achieve measurable results.
Climate Collaborative co-founder Nancy Hirshberg, a sustainability consultant who for more than two decades served as Stonyfield Farm's VP of natural resources, says "The idea is not just to encourage organizations to pool their expertise and educational resources to accelerate progress toward a shared goal, but also to harness the power of peer-to-peer accountability. To that end, Climate Collaborative requires participating companies to report back on their emissions-reduction progress on an annual basis."
Launched on March 8th at the Natural Products Expo West, held in Anaheim, California, the Climate Collaborative asks businesses to not only make a commitment to reverse climate action but also to document, measure, report, and share best practices in meeting the challenge of climate change. To date, more than 80 companies have signed on to the Climate Collaborative, and of those 80, a total of 329 commitments have been made.
About Badger
Badger is a family run and family-friendly company that has been making healthy products for people and the planet since 1995. Badger was born when Badger Bill, a carpenter at the time, created a recipe of natural ingredients strong enough to soothe his rough, dry, cracked hands. Now a team of over 100 employees, Badger produces almost all of its products in Gilsum, N.H. Inherent in Badger's DNA is its status as a B Corp, a certification earned through B Lab, a third party non-profit that requires companies to meet rigorous standards of transparency as well as environmental and social performance. Badger has been a certified B Corp since 2011 and in 2015 became one of New Hampshire's first businesses to register legally as a Benefit Corporation, a for-profit status that incorporates the pursuit of positive environmental and social impact in addition to profit. For more information, please visit http://www.badgerbalm.com
About The Climate Collaborative
The Climate Collaborative is a project of OSC2 and SFTA to catalyze bold climate action among natural products companies. The Climate Collaborative brings manufacturers, retailers, brokers, distributors, and suppliers together to build existing climate solutions to scale and to find innovative, new ways to help reverse climate change. Follow the Climate Collaborative on Facebook @climatecollab and on Twitter @ClimateColl.
About OSC2
A community of sustainably focused natural products industry CEOs and business leaders, OSC2 was founded in January 2012 to address the toughest sustainability problems facing the industry and planet. Directors Ahmed Rahim, founder and CEO of Numi Organic Tea, and Lara Jackle Dickinson, Natural Products Industry Executive, founded OSC2 and serve as its directors. OSC2 strives to leave earth and humanity in better condition than we found it by inspiring natural products leaders to work in innovative and collaborative ways toward positive change. For more information, please visit http://www.osc2.org.
About Sustainable Food Trade Association
The mission of Sustainable Food Trade Association is to build the capacity of the organic food trade to transition to sustainable business models. SFTA serves as a hub for businesses to learn, improve performance, communicate results, share common metrics and best practices. Thus, defining and driving excellence in environmentally sound, socially just business practices using a systems-based approach. For more information, please visit http://www.sustainablefoodtrade.org.