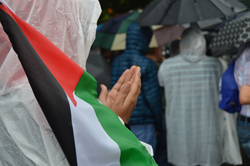 We want to effect a change in foreign policy to one that is more balanced and just for everyone living in the Middle East.
Washington D.C. (PRWEB) July 28, 2017
In an act of profound symbolism, hundreds of Muslims prayed in the street outside the Israeli embassy today in a show of solidarity with Palestinians in Jerusalem who've been forced to pray in the streets outside the gates of Al Aqsa mosque sanctuary because of Israeli restrictions on their freedom to worship.
About 350 Muslims from Washington D.C., Northern Virginia and Maryland, along with Christian and Jewish supporters, attended the event, despite the torrential rain.
"We consider the turnout to be a huge success, especially because of the weather," said Kristin Szremksi, AMP national director of media and communications. "We're here in an act of solidarity. We're sending a message to Israeli authorities that American Muslims and their allies in the Jewish and Christian communities will continue to engage with our elected officials and we'll continue to promote the boycott, divestment and sanctions movement as peaceful means to pressure Israel to comply with international law and end the occupation."
The event was organized by the American Muslims for Palestine, a national education organization based in Falls Church, VA. It was held in response to the current situation in Jerusalem, where Israeli authorities erected metal detectors, checkpoints and, later, surveillance cameras at the Al Aqsa mosque sanctuary, the third holiest site for Muslims. For two weeks, Palestinians protested by praying on the streets outside the sanctuary's gates. On Thursday, after the obstacles apparently were removed and Palestinians were once again able to enter the mosque complex, the Israeli military stormed the site, firing rubber-tipped bullets and injuring 100 worshipers. Today, no men under the age of 50 were allowed in for Friday prayers.
"For us, it is not about the electronic gates. It is not about banning Muslims for two weeks – two Fridays – to pray in their masjid (mosque). For us it is about the occupation," Osama Abuirshaid, AMP national policy director, told the assembly. "The occupation is the root of all problems."
Abuirshaid went on to say that in contravention of numerous international laws and UN Security Council resolutions, including Resolution 2334 passed in December 2016 with a U.S. abstention, "Israel is an occupying force." AMP's mission, and indeed the goal of all justice-minded activists, is to effect a change in foreign policy to one that is more balanced and just for everyone living in the Middle East, he said.
"It is the 21st century," Abuirshaid said after the event. "It is time to bring the world's longest-lasting military occupation to an end and enable Palestinians to achieve their inalienable rights to self-determination, freedom of movement, right to return, as well as freedom of worship."
AMP has organized several events over the past two weeks, including livestreaming educational events and rallies from New York to California. For more background information on Jerusalem, an interactive Jerusalem timeline, videos, statements and talking points, visit http://www.ampalestine.org/projects/jerusalem.
The American Muslims for Palestine (AMP) is a national grassroots nonprofit organization, whose mission is to educate the American public about issues related to Palestine and its rich cultural, historical and religious heritage. For more information, go to http://www.ampalestine.org.