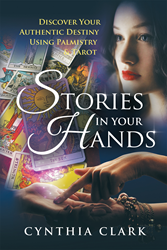 ASPEN, Colo. (PRWEB) July 31, 2017
Cynthia Clark's passion for helping others find and live their authentic destiny by establishing great relationships and connecting with total health and well-being inspired her new book, "Stories in Your Hands."
Clark is a hand analyst expert and intuitive life coach, who explains the connection between palmistry and Tarot in an easy-to-understand language in the book. "Stories in Your Hands" serves as a guide for readers in discovering their true self and equips them with skills to understand and grow through life's challenges. The book helps readers identify their personality archetypes using their hands to understand the physical, emotional, mental, and spiritual attributes of each archetype and how they manifest in every area of one's life.
Clark said "Stories in Your Hands" is a practical book that does not require any prior knowledge about Tarot or palm reading. She added that the book is a guide for gaining self clarity, identifying imbalances and better understanding others.
"Your hands are a reflection of who you are on many different levels, and I want to help people identify their purpose so that they can live their authentic destiny," said Clark. "My goal is for everyone to be happy and fulfilled so if I can assist them in any way then that is what I'm all about."
"Stories in Your Hands: Discover Your Authentic Destiny Using Palmistry & Tarot"
By: Cynthia Clark
ISBN: 978-1-4808-4018-8 (sc); 978-1-4808-4017-1 (hc); 978-1-4808-4019-5 (e)
Available on Barnes & Noble, Amazon and Archway Publishing
About the author
Cynthia Clark is an intuitive life coach, healer, teacher, and author. Clark's expertise covers hand analysis, Tarot card readings, energetic healing, and Feng shui balancing. She has worked with thousands of people worldwide and is the founder of two online life coaching businesses. After years of research, Clark integrates complex concepts from ancient forms of wisdom. She offers hand analysis training, readings, coaching, workshops and other personal empowerment products and services. Learn more by visiting http://www.WorldofHands.com or http://www.Cynthia-Clark.com. Clark currently lives in Aspen, Colorado.
Review Copies & Interview Requests:
LAVIDGE – Phoenix
Lauren Dickerson
480-998-2600 x 601
ldickerson(at)lavidge(dot)com